Roy Keane's is unveiled by Ipswich (video)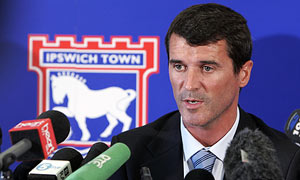 "I'm not a different person. I've had time to think about the few mistakes I made at Sunderland, and the good things I did there. I've just been enjoying myself: relaxing and not answering to anybody; having an Easter holiday I'd never done before; going skiing, which I'd never done before; walking my dogs. But my dogs need a break. I'm ready for this now." – Roy Keane.
Bullish as ever, a clean-shaven Roy Keane was unveiled as the new manager of Ipswich on Thursday with the former Sunderland boss sounding positive and confident about the future of the Tractor Boys. The Irishman had all the answers that the journalists wanted to hear, arguing that Ipswich can get promoted to the Premier League and boasting about the East Anglians ambition to become one of football's big boys.
Roy Keane's debut press conference at Ipswich can be seen here.
As a bonus, the opinion of Guardian journlist Amy Lawrence to Keane's appointment can be seen here.
---