Roy Keane reopens war with SAF: 'Fergie still craves control at United, he's got a massive ego'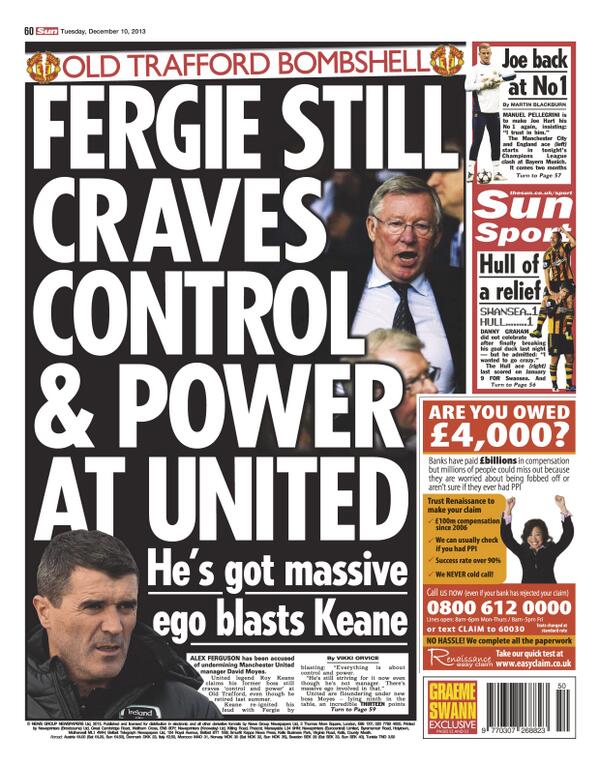 It didn't take long for Roy Keane to stoke the fire between himself and Fergie once more, after their biterness resurfaced following Ferguson's book publication.
In an interview to be broadcast by ITV on Tuesday night for a documentary on Patrick Vieira, Keane gives his first proper response to Ferguson's autobiography trolling, in which he pretty much hung his former captain out to dry.
Asked to describe their relationship today, Keane says it's 'non-existent'.
Asked if he felt let down by Ferguson he replied, "No, nothing surprises me with that man.'
Asked Ferguson's main strength, Keane said 'ruthlessness' (which some would argue is actually a defect!).
Keane then landed a final body blow on Fergie, when asked to name the best manager he played under –  "Brian Clough.
Alluding to Fergie's Shanklyesque hanging around the place even in retirement, joining the team on away European trips, Keano then said the United manager of 26 years is still trying to wield his power at Old Trafford.
"Everything is about control and power. He's still striving for it now, even though he's not manager. There's massive ego involved in that."
Your move, Fergie.
---