"Roy Hodgson will be given the freedom to pursue any transfer target he wishes" if Kenny Huang takes over at Liverpool – John Edwards
Comment & analysis round-up
Quote of the day: "It could be Lionel Messi, and every effort would be made to sign him, this guy is deadly serious about taking over and wants it done this month so Roy can significantly improve the team and go into the season with a realistic chance of winning something." – A "source" to the Daily Mail on Kenny Huang.
Runner-up: "It still remains the objective to conclude a deal before the end of the transfer window. That remains the objective but there are no deadlines, and we will continue working to complete the process." – Martin Broughton.
Sol Campbell responds to "fat belly" jibes: "'It's pathetic, I had been training for three days – just three days. I am three weeks behind everyone else in pre-season. Don't they know I have just got married and been on honeymoon? I accept that the picture wasn't flattering, and I do need to catch up on my level of fitness, but the training kit was not very flattering and showed up all sorts of things. The truth is that I am now in better shape than when I started off back at Arsenal after a long lay-off. I got myself back into shape at Arsenal, and I think I had a reasonably good end half of the season. I am a naturally big guy, but I cannot rush my conditioning, otherwise trying too much too quickly could result in injuries. The season starts in just two weeks and I really need three to four weeks to get back to peak fitness. It's a long season and I cannot listen to idiots. I know these things cannot be rushed. My message is simple to all the knockers: I am knuckling down and want to play my football with a great club and a great manager. Then you can judge me."
Bashing Manchester City: "Just because you bring in 10 new players every year doesn't mean you are going to finish top of the table. City did the same thing last season and finished fifth and I am not sure if they'll be any stronger this time. Spending a lot of money on new signings doesn't guarantee anything. City have to remember there are still teams like Chelsea, United, Liverpool and Arsenal who will always be at the top. And this year we will all be up there fighting for the title again." – Salomon Kalou.
Today's overview: Liverpool dominate this Tuesday morning with chat about potential new owner Kenny Huang all over the back pages.
Depending on who you believe, Liverpool have 10 (The Sun) or 11 (The Independent) days to consider Kenny Huang's offer. There are profiles of the mysterious Chinese businessman with reporters at odds over whether he will splash the cash at Anfield, – John Edwards in the Daily Mail seems to think we could have another Manchester City in the Premier League.
Fernando Torres is also heavily featured after returning to Liverpool yesterday. El Nino's importance to the takeover is widely reported and Louise Taylor profiles the Spanish striker.
The other big story of the day is Wayne Rooney's boozy night out on Sunday with a host of papers predicting or speculating over Sir Alex Ferguson's reaction.
There is also plenty of transfer gossip (including Fabregas to Barcelona), Ian Wright on Mark Hughes and yet more crazy revelations from Robbie Savage.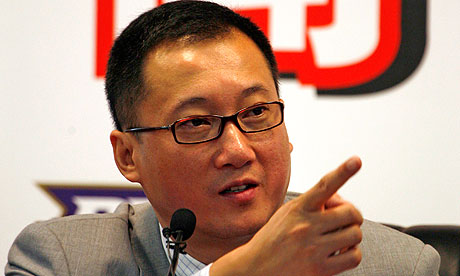 Kenny Huang's bid to takeover Liverpool: Phil Thomas has the lead story in The Sun: "Liverpool have 10 days to decide on the offer from Kenny Huang to buy the club's debt. And if they have not given an answer by then, the Chinese billionaire will walk away. Huang, head of Hong Kong-based investment company QSL Sports Ltd, wants to take over the £237million RBS loan handed to the unpopular American owners Tom Hicks and George Gillett. Liverpool themselves are treating him as a serious bidder and chairman Martin Broughton – the BA supremo brought in to sell the club – has opened talks with Huang's group. Huang is adamant he will make hefty funds available to bring in world-class players and tempt stars such as Fernando Torres into staying at Anfield. But he has insisted on an answer from Liverpool by the end of next week – or he will pull the plug."
Ian Herbert in The Independent claims its an 11-day deadline. "Liverpool have 11 days to consider the take-it-or-leave it offer for the club made by the Chinese businessman who says he is backed by sovereign funds, although doubts remain about whether this bid, or one of as many as five others, will be successful, with the club's investment bankers indicating a preferred bid will be selected by next week. Some critical details of Kenny Huang's bid remain vague, including the precise nature of the Chinese state-owned investment funds which sources close to him claim will deliver the money. It is also unclear whether the trenchant opposition from Liverpool co-owner George Gillett, which is probably shared by his partner at Anfield, Tom Hicks – Huang's bid which could see them make a loss on their initial investment in the club – will prevent the Liverpool board from sanctioning them."
The Guardian profile Kenneth Huang. "Despite his ambition and his attention-grabbing investments, he has shunned the limelight, giving few press conferences. The British company he has hired to handle media inquiries was unable to confirm the year of his birth or if he was an American citizen. Whether or not his bid succeeds, he is unlikely to be the last businessman from China to seek to buy a well-known British team. 'It's just a matter of time before a Chinese entrepreneur buys one of the big football clubs,' Rupert Hoogewerf, founder of the Hurun rich list, said."
The Independent team of Ian Herbert and Nick Harris ask "Can Huang be the saviour of Liverpool?" "No one is pretending that Huang has the money to buy up Liverpool. It is said that he will be backed by Chinese sovereign wealth – state-owned investment funds. But it remains unclear precisely which funds might be at the disposal of the bid Huang is fronting and the biographical background on this individual also remains fairly sketchy."
John Edwards in the Daily Mail predicts big things for Liverpool if Huang takes over at Anfield. "Roy Hodgson will be given the freedom to pursue any transfer target he wishes if the latest move to oust Liverpool's American owners proves successful. On the day Fernando Torres returned to Anfield, billionaire Chinese businessman Kenny Huang has contacted the club's bankers with an opening bid to seize control and has outlined ambitious plans to revolutionise their fortunes after a worrying fall from grace last season. Huang is underwritten by a state-backed investment fund and has offered to pay off Liverpool's £237million debt to RBS in a move designed to put pressure on Tom Hicks and George Gillett and clear the way for a takeover."
Hicks & Gillett: John Edwards concentrates on the Americans. "They are hardened veterans of many a boardroom skirmish, and Tom Hicks and George Gillett are as resolute as ever about the way they will leave Liverpool. It will be on their terms, and no one else's. Hicks, in particular, never tires of demonstrating the ruthless streak that brought him to prominence in business and sport. When his Dallas Stars ice hockey team dipped below expectations two years ago, he fired the general manager and president in the space of a day, then drawled: 'I'm the owner. It's what I do. Honestly, I feel very good today.'"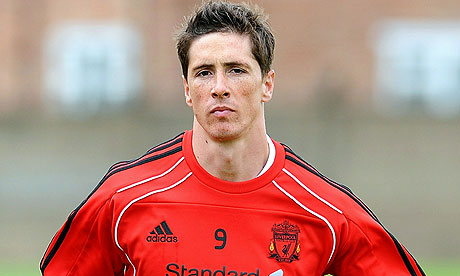 Fernando Torres: In another "Exclusive" in The Sun, Rob Beasley and Phil Thomas team up to report "Liverpool takeover mastermind Kenny Huang secretly sent envoys to see Kop stars Steven Gerrard and Fernando Torres two weeks ago. The Chinese businessman views the pair as Anfield's crown jewels and essential to the club's future success. But he feared they would quit the club before he could gain control. So while he was planning his buy-out of the 18-time league champions, he sent aides to meet with skipper Gerrard and Spanish hitman Torres plus their representatives."
Matt Scott in The Guardian also bigs up the importance of Fernando Torres to any deal. "Broughton conceded that 31 August is 'a very important date' for fans and some Liverpool players. Torres is highly coveted – both Manchester City and Chelsea are reportedly on alert – but such is the Spaniard's stature that his departure would affect the valuation of the club in one bidder's case, at least. The apparent existence of multiple bidders means that the club's US co-owners, George Gillett and Tom Hicks, could end up making a significant profit from their controversial three-year tenure at Anfield. However, the pair will not have the final say in who may take over."
Louise Taylor delves into whether El Nino will stay at Liverpool. "It will certainly not have escaped his and other bidders' notice that an international merchandising survey released yesterday reveals that official Premier League replica shirts emblazoned with Torres on the back outsold those bearing the name of any other player in England last season. According to Sporting ID's statistics, another Liverpool player, Steven Gerrard, was second in the popularity stakes, while Manchester United's Wayne Rooney ranked third. Torres's progress on the pitch last season may have stalled because of the nagging injuries which restricted him to a bit part in Spain's World Cup win yet the 26-year-old remains arguably the world's best striker and Roy Hodgson has duly devoted much of his first month in charge to subtly persuading his prize possession to give Liverpool the benefit of the doubt for another year."
David Maddock adds on Torres, "Fernando Torres looks likely to miss the start of the season as Liverpool look to the long term in protecting his fitness. The Spanish striker was back in training yesterday, after enjoying his first holiday in three years, following his World Cup triumph with his country. But after picking up a groin injury in training in the final against Holland, the centre forward is not yet ready to complete a full training session."
Wayne Rooney: The Sun take more credit for their exclusive of "Wazza on the razza." "Wayne Rooney yesterday faced a ferocious 'hairdryer' blast from Man United boss Sir Alex Ferguson. The Scot was fuming after Roo was snapped smoking during a bender until 5.30AM on Sunday. Sir Alex was said to be 'angry and disappointed' after viewing The Sun's snaps of Rooney's eight-hour bender. Fergie, 68, returned from Manchester United's pre-season tour to find his star striker had been seen smoking cigs and yelling footie chants in the street on his night out."
Despite his late night drinking session, reported yesterday, Wazza seems set to play in the Community Shield on Sunday. Neil Custis: "Wayne Rooney could be thrown into the Community Shield as a punishment for his weekend bender. Manchester United manager Alex Ferguson was going to rest the striker for Sunday's clash with Chelsea. But Rooney can expect to be carpeted by Fergie for his behaviour, exposed in yesterday's Sun. He was pictured smoking, urinating in the street and singing after a night out that went on until 5.30 on Sunday morning in Manchester. Ferguson will be furious at the reports and pictures as the manager demands players give the best image possible of the club at all times. Rooney, 24, could be fined with the issue set to hit board level as the club tries to attract sponsors from around the world to fight the club's debts."
Chris Wheeler lays into Wayne Rooney: "This was Rooney after less than a week back in training for Manchester United, and four days away from his first pre-season game. United fans pinning their hopes on him spearheading the club's attempt to win back the Premier League title, and England supporters who spent thousands following Rooney and his team-mates on a fruitless campaign around South Africa, could be forgiven for wondering what he is playing at."
Cesc Fabregas: The Daily Mail roll out the predictable story of the day. Simon Cass & Laura Williamson: "Fabregas is due back in England on Thursday and Wenger has called on him to end the talk of a return to Barcelona by publicly stating his intention to stay at Arsenal. That remains highly unlikely, although, contrary to reports, Fabregas is not expected again to tell his manager that he wants to go, as he feels it is now in the hands of both clubs to sort out his future."
Jeremy Wilson reports in the Daily Telegraph how Arsene Wenger nearly joined Barcelona. "Joan Gaspart, the former Barcelona president, has claimed that Arsène Wenger once wanted to manage at the Nou Camp but that Arsenal blocked the move… While the ongoing discourse from Barcelona regarding Fabregas is causing irritation at Arsenal, the claims about Wenger are unlikely to make too many ripples now. Wenger has never broken a contract and, while Barcelona were certainly once interested in making him their head coach, Arsenal have faith that their manager has always been committed."
Mark Hughes and Fulham: Ian Wright fears for Sparky and the Cottagers. "Hughes has a problem and it is through no fault of his own. He comes to a club on the back of the most glorious, successful season where expectations are likely to be higher than they should be. It is unlikely Hughes will ever be able to surpass Roy Hodgson's feat of taking the club to the Europa League final and everyone at Craven Cottage must accept this. This is not a case of lacking ambition – more like being realistic. I cannot see any way Fulham can build on that achievement. Getting into a Champions League spot will be beyond them. The club's supporters have to accept last season was a special time. They must cherish it and take that fantastic run for what it was – a one-off – and not put any pressure on Hughesy because of last season's success. I like Fulham. The people behind the scenes there have worked hard and developed it into a decent Premier League club."
Transfer gossip: The Sun, and a host of other papers, report on a possible swap deal between Spurs and AC Milan involving Giovani Dos Santos and Klaas Jan Huntelaar. Also in the Currant Bun, Manchester United have taken keeper Lukas Hradecky on trial, William Gallas has priced himself out of a move to Juventus and Ivan Klasnic is heading back to Bolton on a free.
The Guardian also include transfer gossip on Spurs, "Redknapp says he wants to add three new players and is pushing to take the midfielder Scott Parker from West Ham United. He also has an interest in the defender Micah Richards and the striker Craig Bellamy, both of whom are at Manchester City. But Redknapp might be prepared to consider offers for the defender Alan Hutton, the midfielders David Bentley and Jermaine Jenas and the striker Robbie Keane while Jamie O'Hara, who spent much of last season on loan at Portsmouth, has said he would not be happy being fifth or sixth-choice central midfielder."
The Daily Mail report that Chelsea are closer than ever to signing Ramires, Fulham and Stoke will battle for Roque Santa Cruz and Kanu is set for a new Portsmouth deal. The Daily Mirror say Fulham are after Alexander Hleb, Blackpool are after Rob Hulse and Blackburn want Everton's James Vaughan.
It's surprisingly quiet on the Manchester City front, but Sandy Macaskill writes "Aston Villa owner Randy Lerner could have the chance to resolve James Milner's proposed move to Manchester City when he visits Villa Park this week to watch his side's final pre-season friendly, against Valencia on Friday."
Foreign sources suggest Manchester United are after Lassana Diarra, Inter Milan are planning to raid Liverpool for Dirk Kuyt and Javier Mascherano, Tottenham hold talks with Sporting Lisbon striker Yannick Djalo and Hoffenheim hoping to pip Newcastle in race for Hatem Ben Arfa.
Premier League previews: The Guardian begin their club-by-club round-up with Arsenal and Aston Villa.
The Premier League's music deal: The Sun reveal "Kasabian have landed a new footie deal which will make them Britain's biggest musical export. It will soon be impossible to avoid them anywhere in the world after Barclays Premier League paid a fortune to use their massive track Fire in the title sequences whenever matches are shown abroad. For the next three years broadcasters in around 200 countries will legally have to use the song when they show live games. Kasabian's record label, Sony, are hoping it will give the band's third album, West Ryder Pauper Lunatic Asylum, a huge new boost all around the globe. Considering live matches get up to one billion viewers that shouldn't be a problem."
Robbie Savage's new book: Yet more "shocking" revelations in the Daily Mirror: "My great mate Stan Collymore wasn't eligible to play in the 2000 Worthington Cup final. But he will always be remembered for the major impact he had on our pre-Wembley bonding session. La Manga: two little words, so many headlines. And all because Stan let off a fire extinguisher in the lounge bar of our very exclusive hotel at four in the morning. The idea to go to Spain was a good one. Martin O'Neill thought we could relax before the final against Tranmere but he didn't come with us. His assistants John Robertson and Steve Walford took us instead and we started drinking as soon as we boarded the plane. Robbo was on Bloody Marys." In a seperate revelation, Savage describes "The day I became a hate figure."
Click here for more Premier League betting tips
---