Roma's Twitter account went into meltdown after Totti lead them to victory over Parma
It was an exceptional weekend fro Roma talisman Francesco Totti.
Totti scored his 226th career goal to seal a 2-0 win over Parma, and in doing so Il Bimbo d'Oro became the second most prolific goalscorer in Serie A history.
Totti's goal, a thumping free-kick, wasn't even the Roma's captain main highlight of the match. His standout moment arrived during the opening forty-five as Totti displayed unbelievable tekkers to execute an amazing backheel pass which freed a Roma teammate down the left hand side.
It all proved too much for Roma's official Twitter account.
Celebrating the achievement of their hero, Roma's Twitter went into a meltdown as they comically tweeted "Totti" over and over and over again.
See the screengrab of the Roma tweets below, as well as the individual highlights of Totti's performance v Parma.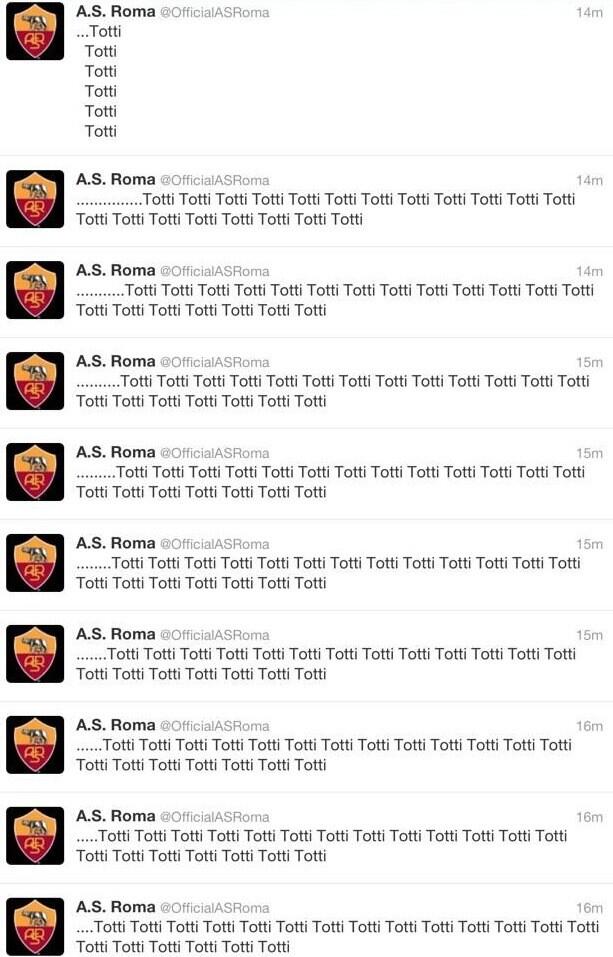 ---
GAMBLING CAN BE ADDICTIVE, PLEASE PLAY RESPONSIBLY