#MioCapitano: Roma captain Francesco Totti signs 2-year contract extension, taking him through to 39 and retirement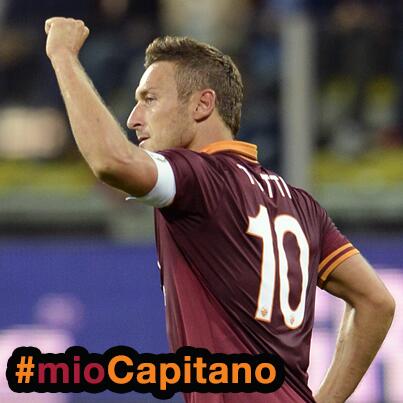 Julius Cesar incarnate, Francesco Totti has signed a contract extension with his boyhood club AS Roma, taking through to the age of 39, ensuring he will retire a one-club man.
The club held a press conference to reveal the contract extension today, in which a proud Totti said: "I have another two years of responsibilities and I'm sure we'll achieve some great things together.
"I'd like to thank the president for this new contract. Everyone wanted it to happen, me and the club."
 Club President James Pallotta added: I'm honoured that Francesco Totti is staying here and I'd like to toast to a great future for Roma and Francesco.
"There's never been any doubt in our minds that Totti would stay. He's Roma's leader and he'll be here forever.
"I'm pleased with what we've achieved in the last few months. We're a work in progress and we're forging ahead."
Totti also showed himself to be open to a return to the Italy set-up were he to be called upon.
 "Going to the World Cup? My jersey is the Roma jersey but obviously I remain open to the possibility. We'll see."
Already a living legend among the Giallorossi, the news that Totti will complete 23 years with the club and will retire a loyal Roman will endear Il Capitano all the more to the Roma faithful.
Francesco Totti's contract extension press conference can be seen below.
[gthumb id="356365″ size="large" autoplay="1″]
---
GAMBLING CAN BE ADDICTIVE, PLEASE PLAY RESPONSIBLY