Robinho picks up comedy injury by colliding with a camera (Al-Ahli-AC Milan)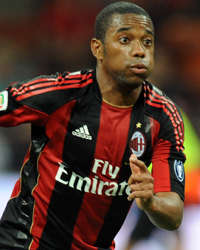 Has an injury on a football pitch ever been shown at such a close up angle before?
Robinho is nursing a right knee injury tonight after coming off worse for wear with a television camera on the sidelines of the friendly between Al-Ahli and AC Milan.
Immediately, thoughts will turn to Gabriel Heinze famously hitting a camera during the 2010 World Cup match between Argentina and Mexico but this time Robinho did not grab any retribution.
The former Real Madrid and Manchester City forward limped off with five minutes to go and according to AC Milan coach Massimiliano Allegri had "cuts on his knee and below his knee" but "hopefully wouldn't miss" the team's Serie A match against Cagliari on Thursday.
Robinho's comedy injury, colliding into a camera, is on this video.
Another angle on the Robinho injury is here.
Related video link: Al Ahli 1 – AC Milan 2.
Best football betting tips & free bet offers
Click here for more Premier League betting tips
---