Rob Green-esque goalkeeper gaffes embarrass John Ruddy & Frank Rost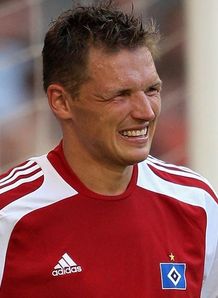 Yet another day of friendlies across Europe ahead of the 2010/2011 campaign has seen two goalkeepers cover themselves in shame with truly awful errors.
Incidentally, Rob Green kept a clean sheet for West Ham today in their 1-0 friendly win at Ipswich this afternoon.
The first goalie gaffe came in the friendly between Norwich and Everton at Carrow Road. Tim Cahill scored a hat-trick and the Australian hardly needed any help from the opposition goalkeeper.
John Ruddy, a former Toffee, somehow allowed Cahill's tame shot through his hands and body to give Everton an early lead.
Goals from Norwich-Everton, with Ruddy's horrible error the first goal.
The Norwich number one can at least console himself as not the only custodian to let in a soft long range strike today.
Hamburg keeper Frank Rost (pictured) allowed a speculative effort from Jermaine Jones to see Schalke past his side in the Total Cup.
The 37-year-old is hugely experienced but Rost is likely to have nightmares about his lame effort to stop Jones' shot which was compounded by the fact the friendly was just 60 minutes long.
Footage of Frank Rost's howler.
Click here for more Premier League betting tips
---