Ricardo Fuller and Andy Griffin kiss and make-up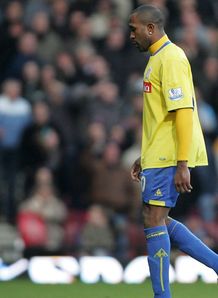 Almost a week after Ricardo Fuller was sent off for slapping his own captain Andy Griffin during Stoke's 2-1 defeat a West Ham, manager Tony Pulis has attempted to bring this episode to its conclusion by announcing "Ric and Griff have apologised to one another and to the group as a whole. They have also been punished in-house and it's over and done with."
Complicating the situation was an interview given by Ricardo Fuller to Sky Sports News on new year's eve, where the Jamaican forward complained that Griffin had shown "disrespect" towards him at the time of the incident. Although Fuller admitted his behaviour was out of line, it was clear that the striker apportioned a certain amount of the blame on his club captain.
Ricardo Fuller's interview to Sky Sports can be seen here.
In the interview Fuller aired his concerns that he may no longer have a future at Stoke, but manager Pulis has moved quickly to remove any such speculation, adamant that Fuller would not be sold and that his teammates had accepted his apology.
Stoke will be hoping to start the new year with a clean slate.
---
GAMBLING CAN BE ADDICTIVE, PLEASE PLAY RESPONSIBLY