Remember when a Manchester United fan threw a coin at Manchester City's Craig Bellamy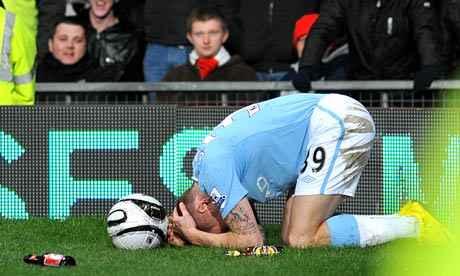 The football community was understandably aghast at the Etihad on Sunday as Rio Ferdinand was pelted with a coin by a Manchester City fan after Robin van Persie's late winner.
Related article: GIF: Rio Ferdinand (Manchester United) struck in the face by a coin thrown by a scum Man City fan.
Manchester City have since come out with a detailed statement that shows how seriously the Premier League champions will be taking this incident.
City: "Manchester City FC security officials are co-operating fully with Greater Manchester Police in relation to events leading up to the throwing of missiles onto the field of play, and between the two sets of supporters, during today's game against Manchester United. Manchester City wishes to offer its sincere apologies to Rio Ferdinand. The Club unreservedly condemns the actions which led to his being injured. GMP's review of all fan behaviour at today's match will be fully supported by the Club, through the provision of CCTV footage and eyewitness accounts. Following this review, and any associated police action, the Club will also apply its own disciplinary policies for any fans found guilty of offences."
It has also been pointed out in the aftermath of Rio Ferdinand's coin attack that Manchester City have indeed been on the receiving end of a similar incident.
In January 2010, City lost 3-1 at Old Trafford in an epic second leg that saw Manchester United secure a final berth and Craig Bellamy was hit by an object from the home support. Video below.
This is not a justification of either hooligans' pathetic behaviour. Just a warning that all clubs have fans who let their peers down.
[jwplayer config="For-all-videos" mediaid="266670″]
---