Referee Lee Mason torn apart following his awful display during Crystal Palace v Arsenal [Best Tweets]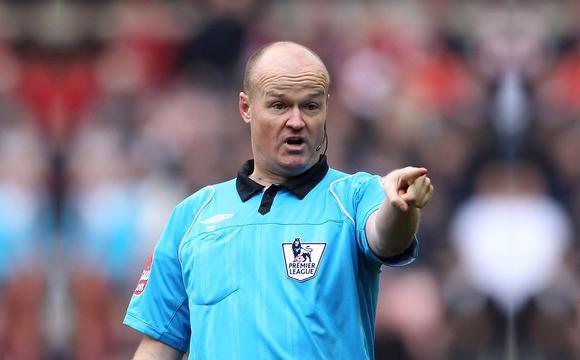 Premier League referee Lee Mason has come under intense scrutiny from football fans following a rather poor refereeing display as Arsenal beat Crystal Palace 2-1 at Selhurst Park.
A Damien Delaney own goal was enough to give the Gunners all there points after a spectacular Joel Ward effort had cancelled out an Olivier Giroud acrobatic golazo in the first half.
In the midst of an entertaining 90 minutes in South London came Lee Mason's scandalous decision to not send off already booked Arsenal midfielder Francis Coquelin following a challenge on Wilfred Zaha.
The decision to not show the Frenchman his marking orders was key as the Reds held on to a much needed victory following their shock 2-0 defeat to West Ham at the Emirates last Sunday.
Following the incident fans took to Twitter to completely tear the referee to shreds, and it's safe to say everyone is rather bemused by Lee Mason's decision, or lack of.
Referee Lee Mason's half-time heat map. pic.twitter.com/G8OIp7CYa7

— BuzzFeed Football (@BuzzFeedUKFB) August 16, 2015
Bamford penalized by Lee Mason for playing football.

— Five Year Plan (@FYPFanzine) August 16, 2015
Lee Mason has Francis Coquelin as the budget option in his fantasy team doesn't he? And he's coming off the bench.

— Sam Tighe (@stighefootball) August 16, 2015
I'm fed up of people picking on Lee Mason just because he doesn't seem to have any comprehension of the rules of football!

— Martin Samuel (@themartinsamuel) August 16, 2015
Lee Mason is a terrible referee. Your given the power to make decisions, at least attempt to make a few correct ones.

— Liam Thomas (@LiamThomo) August 16, 2015
I honestly think that Lee Mason has been sent by the @FA to troll football fans. There's no other reason he's employed.

— Adam Smith (@Adam_Smith_82) August 16, 2015
Lee Mason has bottled it today. Ruined the 1 game treble from the looks of it.

— AlmightyTips (@AlmightyTips) August 16, 2015
Ars man of the match should go to Lee Mason #Fact

— Coutinho (@OluwaseunLfc) August 16, 2015
Lee Mason has been appalling today. Letting a team know before a player sees red so they can substitute him? Tantamount to cheating. @FA

— Nick Dooge (@doogie_nights) August 16, 2015
Lee Mason clearly with Francis Coquelin in the Fantasy Football team.

— Paddy Power (@paddypower) August 16, 2015
Lee Mason has an Arsenal win in his acca.

— Busby MUFC (@BusbyMUFC) August 16, 2015
Lee mason pick your bottle up! 🍼 #BPL

— Jordan Harris (@JordanHarris92) August 16, 2015
Lee Mason isn't the most formidable of referees. He looks like a wistful Maris Piper. #CPFCvAFC

— Dan (@ThatConnArtist) August 16, 2015
I'll be very surprised if Lee Mason doesn't get Arsenals man of the match award.

— Paul Roberts (@alfroberts1) August 16, 2015
Lee mason is gonna stick on that bastille album on the way home again

— dayo (@DamianConnor) August 16, 2015 <blockquote class="twitter-tweet" lang="en"><p lang="en" dir="ltr">Lee Mason is the kind of guy who puts lemonade in 21 year old scotch.</p>&mdash; Busby MUFC (@BusbyMUFC) <a href="https://twitter.com/BusbyMUFC/status/632914356070563840″>August 16, 2015</a></blockquote> <script async src="//platform.twitter.com/widgets.js" charset="utf-8″></script>  
---
GAMBLING CAN BE ADDICTIVE, PLEASE PLAY RESPONSIBLY