Real Madrid's Luca Zidane slammed for being a goalie who is scared of the ball (Video)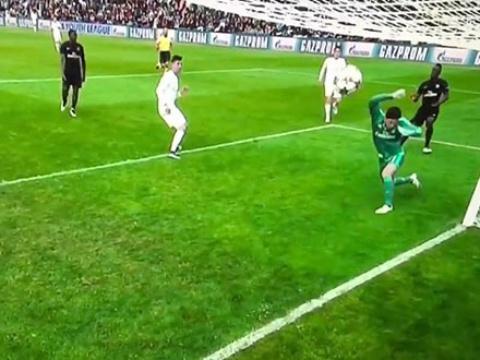 It's often said that to be a top goalie you need to be a little mad.
Keepers often have to put their body directly in harms way, as the last line of defence for a team.
Luca Zidane, who plays for Real Madrid U17 in goal, has found himself receiving criticism over the past few days for failing to show his bravery in a match against PSG.
Zidane junior conceded a goal against the Parisians as he turned his back on a close range shot.
It was if the young stopper was scared of getting hurt by the ball.
Watch the footage below, together with some of the tweets on the incident.
What kind of goalkeeper turns his back on a shot? Luca Zidane does. It helps if your Dad's the manager, obviously. pic.twitter.com/VfkGqKR8iB

— Dan Mason (@_DanMason) April 15, 2016
Some of the worst goalkeeping seen from Luca Zidane for the U19 team earlier today against PSG. He got scared of the ball. A goalkeeper..

— Ped (@ChurchOfFutbol) April 15, 2016
@CastillaStats luca zidane is like young version of iker casillas.. same height, same reflexes

— Junė Cąlhanögľu (@Calhanogluk) April 15, 2016
Zinedine Zidane's son, Luca, showing great bravery in goal. https://t.co/UfusGe8Nb0

— Richard Amofa (@_RichardAmofa) April 15, 2016
---