Real Madrid striker Karim Benzema dreams of winning the Ballon d'Or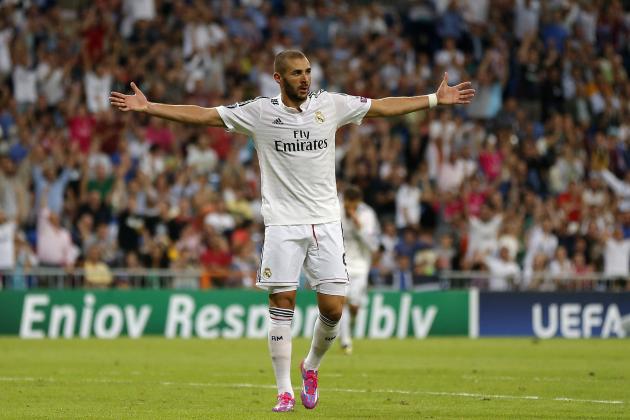 Karim Benzema has been a mainstay in the Real Madrid first team for several years. They are one of the world's most successful teams. The current Champions League holders.
He is on the verge of scoring at least 20 goals in all competitions for the fifth consecutive season. Yet he has never been part of the discussion when it comes to the Ballon d'Or.
The greatest individual prize in football is one that every top class player covets. Including Benzema.
Speaking to BeIN Sports, he said: "Winning the Ballon d'Or remains one of my objectives.
"I am not going to lie about it. The Ballon d'Or is always in the back of my mind. Every player dreams of winning it.
"What I would need to do to win it? I would have to win a lot of titles and score 80 goals or so in one year!"
He went on to speak about the initially difficult adjustment to life in Spain: "I was quite happy with my move to Madrid, but after the first few weeks I felt lost without my family.
"It was very difficult for me. I had to put in a lot of hard work, things I did not necessarily do at Lyon. It was like another dimension.
"All the hard work has helped me develop. I know what I am worth now. This is my sixth year at Real Madrid. Had I been just any other player, I would not have stayed at Madrid this long."
Perhaps if Lionel Messi and Cristiano Ronaldo weren't around, Benzema would come under consideration. Messi has scored more than 35 goals in all competitions for seven consecutive seasons, including this one.
Benzema is undoubtedly a player who possesses wonderful ability but he needs to up his game significantly if he wants to win the Ballon d'Or.
It also doesn't help that he's at the same club at Cristiano Ronaldo, another player who obsesses about being the best.
To get the individual recognition he feels he deserves, Benzema will either need to leave Madrid or hope that Ronaldo leaves first.
Back Real Madrid to beat Schalke at 2/1!!!
---
GAMBLING CAN BE ADDICTIVE, PLEASE PLAY RESPONSIBLY