Real Madrid reserve number 11 shirt for Gareth Bale, AS publish photo of kit found in Bernabeu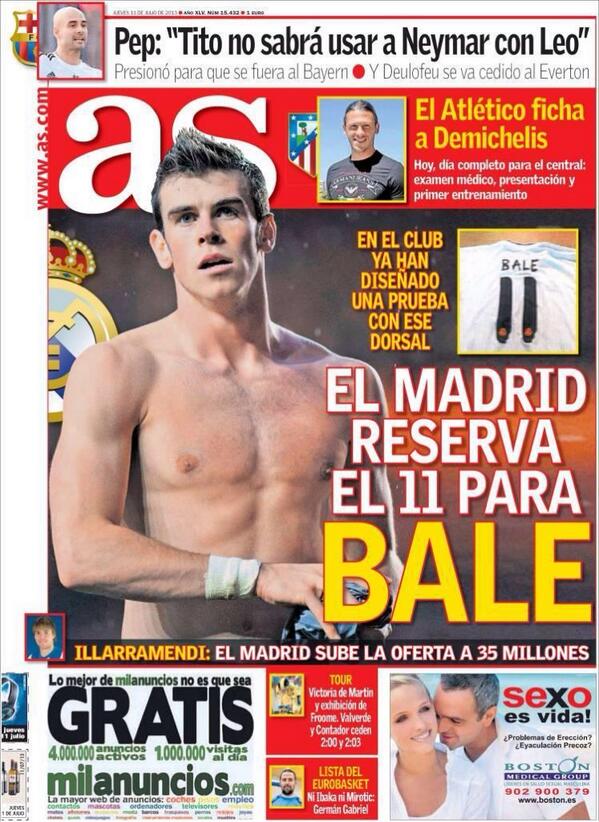 Real Madrid's chase for Gareth Bale is seemingly never ending and there will no doubt be yet more dismay from Spurs fans over the latest report published by AS today.
Despite the fact Bale was pictured at the new Tottenham kit launch and currently features on a huge billboard in New York's Times Square in a Spurs strip, still the rumours from Madrid will not go away.
According to AS, Gareth Bale is still "the dream signing" of Real Madrid president Florentino Perez and Carlo Ancelotti and Zinedine Zidane still hope to secure a deal for the Spurs forward in this summer's transfer window.
AS claim Real Madrid have held their number 11 shirt for Gareth Bale and have even mocked up the new Los Blancos kit with the Welsh forward's name and number.
Said shirt was commissioned by the Real Madrid hierachy and can be seen on the front cover of AS today.
(It should be pointed out that to make such a shirt would be very simple for either the club or AS.)
Florentino Perez will fight until the final day of the summer transfer window and despite the fact he knows Spurs chairman Daniel Levy is a tough nut to crack, believes he can secure the player.
Later this month, Real Madrid head to England to play a pre-season friendly against Bournemouth and they are expected to try and negotiate with Tottenham then.
AS add that figures of between 100 million and 150 million euros have been bandied about to sign Gareth Bale.
---
GAMBLING CAN BE ADDICTIVE, PLEASE PLAY RESPONSIBLY