Real Madrid close ranks on future number 9 Radamel Falcao, as interest in Liverpool's Suarez dissipates [AS]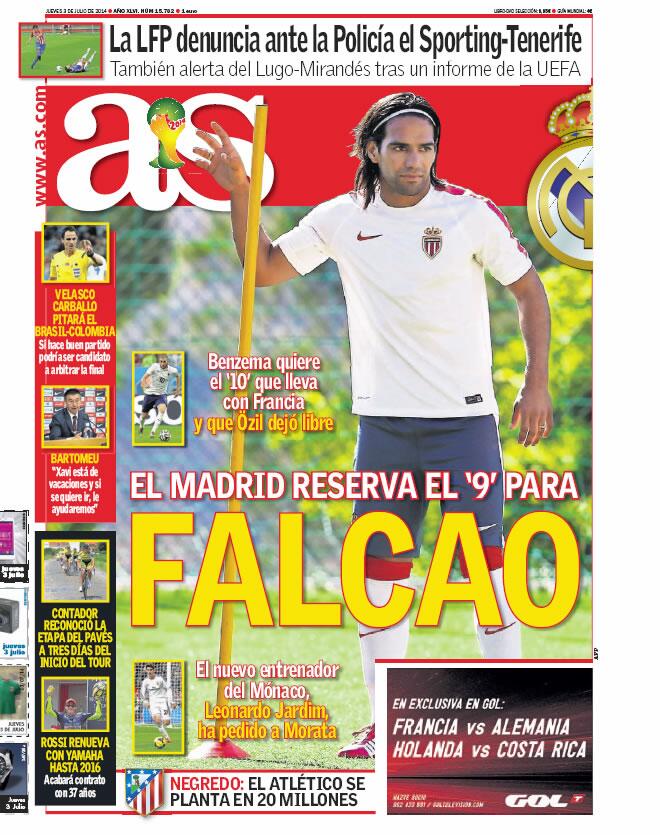 Real Madrid are closing in on signing Radamel Falcao from Monaco, if Thursday's edition of AS is on point.
Much like a game of musical chairs, the headline story in the Spanish daily centres on Real's plans to hand Falcao the number 9 shirt at the Santiago Bernabeu next season, whilst Karim Benzema, rather than been shifted out the club completely, will instead become the Los Blancos number 10.
The number 10 short has been vacant since Mesut Ozil left for Arsenal last summer.
Rather than all the shirt numbers talk, the underlying message of the transfer tale in AS is to convince readers that Falcao's arrival in Madrid is imminent.
On the flip-side, the other message of the story is to assert that Real's interest in signing Luis Suarez from Liverpool has been shelved. AS indeed write that whilst the Liverpool froward looks set to join Barcelona, "the siege of Madrid for Falcao will soon end".
So what's stopping the Falcao deal happening today?
AS claim that all that's left to be agreed between Madrid and Monaco are the deadlines for finalising the transfer payments, while they say Falcao has been told by the Ligue 1 side that he is free to go this summer. Indeed, new Monaco manger Leonardo Jardim is said to be chasing Alvaro Morata to lead his attack next season.
AS also report that Real plan to hand their number 8 shirt to either Toni Kroos or James Rodriguez, depending on which attacking midfielder to manage to sign.
---