Real Madrid and world football legend Alfredo di Stefano dies at 88 [Best Tweets]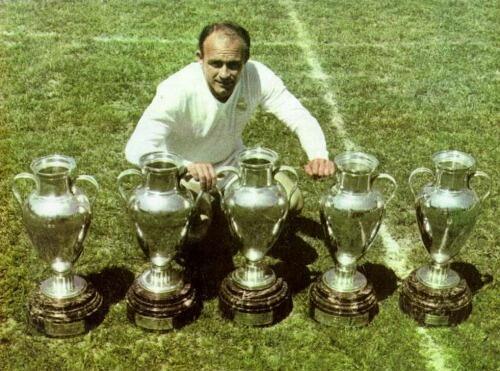 Sad news broke out of Spain on Monday afternoon: Alfredo di Stefano has passed away.
Reports came out over the weekend that, just days after his 88th birthday, Real Madrid legend Di Stefano has been put into a coma after suffering a heart attack.
According to Marca, Di Stefano had a cardiac arrest on the street at 5pm on Saturday afternoon.
The honorary president of Real Madrid was subsequently being treated for at the Gregorio Marañón hospital, however on Monday he passed away.
Di Stefano scored 216 goals in 282 games for Real Madrid, whilst also playing international football for Argentina, Colombia and Spain.
Below are the best tweets and tribute to Alfredo di Stefano.
DEP Don Alfredo Di Stéfano. ' Ya corre La Saeta'

— Xabi Alonso (@XabiAlonso) July 7, 2014
Alfredo Di Stefano is the only footballer to ever score in five consecutive European Cup finals. A sporting legend

— MailOnline Sport (@MailSport) July 7, 2014
The first, and greatest, Real Madrid 'Galactico'. #RIPAlfredoDiStefano

— Piers Morgan (@piersmorgan) July 7, 2014
We're sad to hear @RealMadrid legend Alfredo Di Stefano has passed away. The thoughts of everybody at #mufc are with his family & the club.

— Manchester United (@ManUtd) July 7, 2014
It'll be an emotional #ARG on Weds after the great Alfredo di Stefano passed away. RIP to a football legend pic.twitter.com/x3z9OoOuD8

— Jonathan Stevenson (@Stevo_football) July 7, 2014
Tú nos hiciste los más grandes. Siempre estarás con nosotros. Descansa en paz, Don Alfredo. pic.twitter.com/iCHqy7wIHc

— Álvaro Arbeloa (@aarbeloa17) July 7, 2014
Alfredo Di Stefano has died. One of the greatest players ever. Scored in 5 successive European Cup finals. A feat never to be matched. #RIP

— Gary Lineker (@GaryLineker) July 7, 2014
The angels will be giving Alfredo Di Stefano a guard of honour. He won RM 1st European Cup & lived to see the 10th. Honour to have met him.

— Kay Murray (@KayLMurray) July 7, 2014
Di Stéfano pic.twitter.com/HvwESeK7Ve

— Lucas Sposito (@harris__) July 7, 2014
After the Munich Disaster, Santiago Bernabeu spoke to Di Stefano about loaning him to United until the end of the season as a good will…

— Nooruddean (@BeardedGenius) July 7, 2014
One of the greatest to ever grace a football pitch, Alfredo di Stefano has sadly passed away!! https://t.co/j1R6IHWgYb

— The Football Jester (@FootballJester) July 7, 2014
Click here for more Premier League betting tips
---