Rafa Benitez: "You'll never walk alone"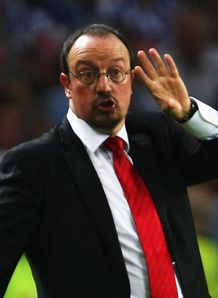 "It is very sad for me to announce that I will no longer be manager of Liverpool FC. I would like to thank all of the staff and players for their efforts. I'll always keep in my heart the good times I've had here, the strong and loyal support of the fans in the tough times and the love from Liverpool. I have no words to thank you enough for all these years and I am very proud to say that I was your manager. Thank you so much once more and always remember: You'll never walk alone." – Rafa Benitez.
A news report into Rafa Benitez leaving Liverpool can be seen here.
AÂ "Thank you Rafa" tribute to his six years in charge can be seen here.
Rafa's most famous speech in his Liverpool reign, the "Facts" rant towards Sir Alex Ferguson's Manchester United, can be found here.
Here is the first goal of Rafa Benitez's reign – a Steven Gerrard cracker.
And it is fitting that effectively Benitez's last appearance as Liverpool boss was him celebrating on stage that famous night in Istanbul.
(This was probably his best video moment though.)
---