Rafa Benitez gives a press conference on Atletico-Liverpool on a public train (video)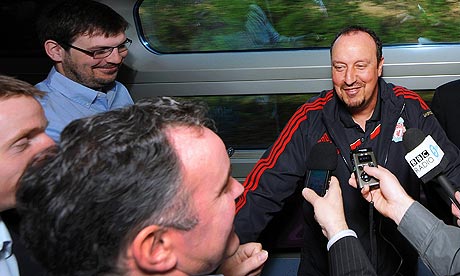 With all the disruptions to European travel due to the Icelandic volcano, Liverpool were forced to travel by train in order to make it on time for their Europa League semi-final with Atletico Madrid on Thursday night.
Taking the revised travel plans on the chin, Liverpool coach Rafa Benitez was forced to give his pre-match press conference on a busy public commuter train on Wednesday. The surreal circumstance meant that reporters and cameras surrounding Benitez on a moving train, with members of the public just sitting around as the question and answer session was taking place.
Rafa Benitez's bizarre press conference ahead of Atletico Madrid-Liverpool can be seen here.
---