Radamel Falcao releases his birth certificate to prove he is 27 years old
Earlier this week, we reported on the question marks surrounding Monaco and Colombia striker Radamel Falcao.
The primary school attended by Falcao produced a document that claimed the Monaco forward was born in 1984 and not 1986.
This would have opened up a whole can of worms (see article above) and Falcao moved quickly to deny suggestions he was two years older than everyone previously thought.
At first Falcao took to his Twitter account to rubbish the claims and then on Wednesday his birth certificate was released by Colombian newspaper El Tiempo.
The birth certificate states that Radamel Falcao García Zárate (his full name) was born on February 20th, 1986 in Santa Marta,
Someone has clearly got it in for Falcao as apparently this rumour has already spread earlier in his career during his spell at River Plate.
It is our prediction that when Radamel Falcao takes next summer's World Cup by storm, these reports will once again surface.
The birth certificate is below.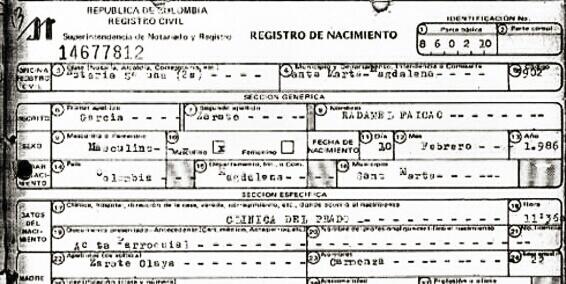 ---