Qatari referee caught peeing on the pitch (Al Gharafah-Al Khor)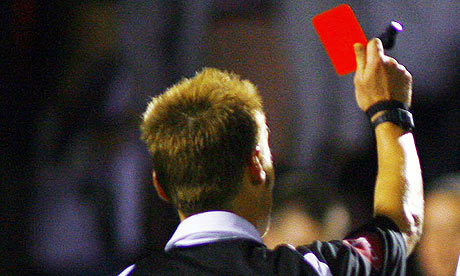 We can only presume that Qatari football has yet to introduce a respect campaign after watching the following footage.
Just over a week ago, Al Gharafah took on Al Khor in the domestic Qatari league with the hosts running out 4-1 winners on the night. Yet the Gharafah victory was overshadowed by the actions of the match referee who was caught on camera cheekily taking a leak on the pitch as the teams waited for a set-play to be delivered during the second half.
Unfortunately Qatari TV felt unable to show the referee's naughty actions in all its unedifying glory, deciding it best to impose a horrible black box over the officials's lower regions as the story was replayed on local news.
Footage of the Qatari referee peeing on the pitch can be seen here.
Click here for more Premier League betting tips
---