Qatar cleared by FIFA to host 2022 World Cup [Best Tweets]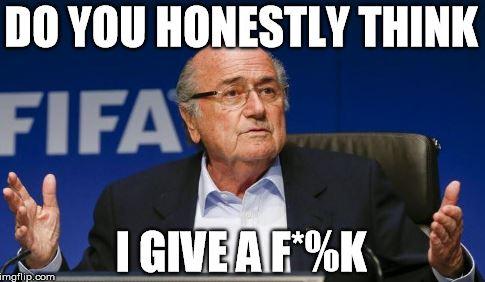 Quelle surprise!
FIFA's report today has exonerated Qatar of any blame for how they won the 2022 World Cup bid and appears to be final confirmation that they will host the tournament in just under eight years time.
To add insult to injury, the FIFA report has also taken aim at how England attempted to win the hosting of the 2018 World Cup.
Incredibly, England are accused of damaging "the image of Fifa and the bidding process".
The full disgraceful report is here.
Got my hands on the Fifa report. pic.twitter.com/hWdC7yi5ib

— Max Rushden (@maxrushden) November 13, 2014
Fifa: England 2018 bid "undermined integrity of the process." What integrity? All fought dirty. Some MUCH dirtier than others. What a joke

— Oliver Kay (@OliverKayTimes) November 13, 2014
Glad to hear FIFA, having investigated the issue, have decided they are not corrupt. A great relief to us all.

— keith jackson (@tedermeatballs) November 13, 2014
So England largely co-operate with Fifa probe, get criticised by report. Russia say all emails were destroyed and are free to host W Cup.

— Owen Gibson (@owen_g) November 13, 2014
Fifa creating sideshow with its takedown of the FA. But allegations are serious. PM, royals and EVEN BECKHAM drawn into squalid 2018 bid?

— Paul Hayward (@_PaulHayward) November 13, 2014
So an independent investigator, paid by FIFA, and a judge paid by FIFA, will declare no corruption. Well that's me sold. I'm a believer.

— James Masters (@Masters_JamesD) November 13, 2014
Fifa clears Fifa to continue being Fifa.

— Matt Leys (@mattleys) November 13, 2014
If Garcia is head of FIFA's ethics committee (!), just how 'independent' is he exactly? FIFA hired him to investigate themselves.

— Mark Duffy (@DuffersSport) November 13, 2014
FIFA = Failure, Idiots, Farce, Astonishing

— Mike van Dulken (@Accendo_Mike) November 13, 2014
So the FA's problem, as FIFA sees it, is that it tried the wrong sort of corruption to try to get the Workd Cup – the unsuccessful sort

— Robert Rea (@robertrea) November 13, 2014
Got to love the transparency of the FIFA judgement. We did no wrong, but our biggest critics, that nasty English FA did very naughty things.

— Mark Dearlove (@mdearlove) November 13, 2014
This FIFA verdict on Qatar 2022 is a massive JOKE. Sad times for the world's most popular game. Run by crooks and charlatans.

— 101 Great Goals (@101greatgoals) November 13, 2014
What an utter disgrace. A nation that violates human rights & funds terror all over the world is being rewarded. What world do we live in?

— Raphael Gellar (@raphaelg23) November 13, 2014
Bet £10 & Get £20 Free!
Open a new account with William Hill, Bet £10 & Get £20 Free!!
Click here for more Premier League betting tips
---