Poll: Whose overhead kick was better? Philippe Mexes or Zlatan Ibrahimovic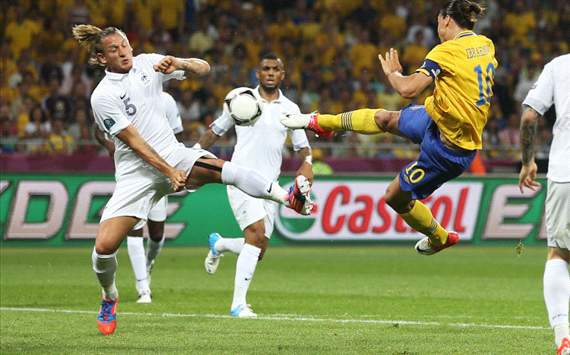 Within seven days we have been treated to two of the finest overhead kicks ever seen and for that we should be thankful.
But, hey, we all love a debate and it is only right and proper that we attempt to decide which overhead kick was better: Zlatan Ibrahimovic's for Sweden against England or Philippe Mexes for AC Milan versus Anderlecht?
The debate was raging as soon as the French defender claimed an epic Champions League goal and we have already posed this to our Facebook fans earlier this morning.
Mexes claimed his overhead stunner in a big Champions League game and rarely gets many goals at all – this was his first goal of the season and his last came for France against Luxembourg on March 25, 2011.
Crucially, as many have pointed out, Mexes had to beat a goalkeeper in Silvio Proto who was standing on his line and whose mistake (e.g. Joe Hart) did not have any bearing on the goal.
But, Zlatan's was his first touch. Was from a much harder angle. Almost universally proclaimed as "the best goal ever!" And the Super Swede jumped much higher for his goal. As well as it coming as the culmination of a magnificent four-goal display that saw off England.
Have your say in the poll below. To help you decide, both goals are in seperate videos below.
[poll id="182″]
Philippe Mexes (AC Milan) v Anderlecht
Zlatan Ibrahimovic (Sweden) v England
---
GAMBLING CAN BE ADDICTIVE, PLEASE PLAY RESPONSIBLY