Polish Problems: Leo Beenhakker reacts angrily to sacking rumours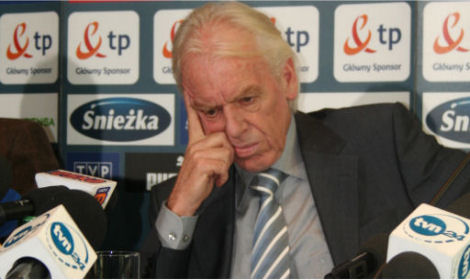 Even before Poland lost to Northern Ireland on Saturday, rumours were gathering apace that Leo Beenhakker would walk the plank of the Polish national team. So it was not surprising to see hacks gathering round the under-pressure Dutch coach on his side's return home at the weekend forcing the manager to answer questions on his future.
At 67-years-old, Leo Beenhakker has struggled with domestic Polish politics that have strained his relationship with the PZPN. And it had been thought that losing in Belfast would force the new PZPN president Grzegorz Lato to give the manager the boot. However, Beenhakker's determination to persist in his job was evident when the Dutchman reacted angrily to a huddle of journalists on arriving back on Polish soil.
When asked straight-out if he would resign, Beenhakker replied bitterly "Why?! Why?!" The journalist then tried to explain the reasons behind the question, but before they could finish Beenhakker letting out a hugely defensive "Come on!!!!" before turning his back on the microphones being thrusted in his face and looking for the nearest exit.
Leo Beenhakker's upset face-off with Polish journalilsts can be seen here.
---
GAMBLING CAN BE ADDICTIVE, PLEASE PLAY RESPONSIBLY