Police Violence at the Burnley v Blackburn Game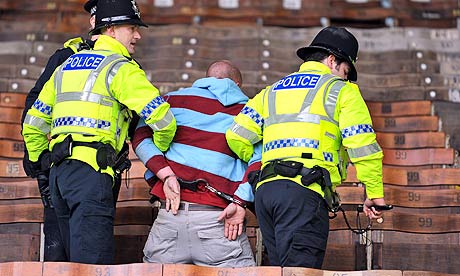 The East Lancashire derby between Burnley and Blackburn is one of the oldest derby matches in the English game, as both were founder members of the Football League.
The enmity between Burnley and Blackburn Rovers supporters is well known. With both towns formerly being competing centres of cotton production and situated only eight miles apart their rivalry has become embedded in the psyche over generations.
Following Blackburn's victory (three weeks ago) at Turf Moor, rival fans stayed after the final whistle to hurl abuse at each other, but no fighting took place.
In the video below you will see  policemen wading into the crowd with batons flailing. It is only a 40-second video, but the fans do not appear to be presenting a violent threat.
Police State UK report that a father who had attended the match with his 12 year old son claimed that he had stumbled and fallen on one police officer which resulted in him being beaten across the face, body and legs. This resulted in a severely bruised leg and a suspected broken rib as his son watched in horror.
He was then arrested and held in custody by the police for four hours, during which he was seen by a police doctor and eventually presented with a choice – accept a caution or face a charge of violent disorder.
Is this sort of police behaviour called for? And where has the media coverage been of this shocking incident?
Watch the baton charge here.
---
GAMBLING CAN BE ADDICTIVE, PLEASE PLAY RESPONSIBLY