Pippo Inzaghi replaces Clarence Seedorf as AC Milan coach [Best of the Twitter reaction]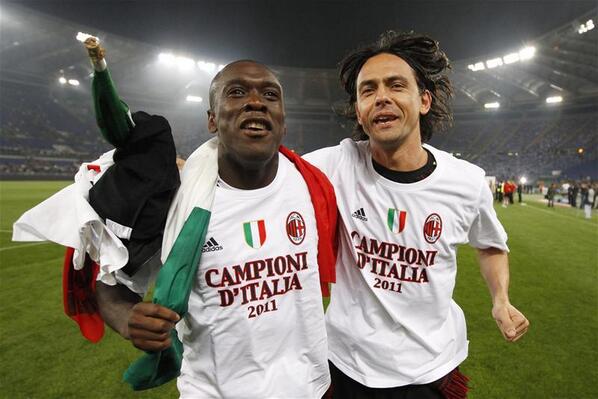 It had been inevitable for some time.
AC Milan announced on Monday afternoon that Clarence Seedorf had been sacked and Pippo Inzaghi would take over until June 2016.
Inzaghi has worked wonders with the AC Milan youth team and has been tipped for big things as a coach.
Seedorf's reign as AC Milan boss undoubtedly improved towards the end of the season but a failure to get the Rossoneri into Europe – despite starting from a very difficult position – proved his undoing.
As well as a host of personal issues within the club involving Adriano Galliani and Silvio Berlusconi's daughter Barbara.
There was some decent initial analysis on Twitter of the decision by AC Milan to sack Seedorf and bring in Inzaghi…
Seedorf lost 9 out of 21 matches, lost the locker room, broke team rules with TV interviews- aside from that he was great at Milan

— David Amoyal (@DavidAmoyal) June 9, 2014
If Seedorf finds another job before June 30, 2016, then Milan will, of course, stop the payments to him.

— AC Milan News (@Milanello) June 9, 2014
Clarence Seedorf: Won 7 of his last 9 matches as manager of AC Milan after winning just 4 of his first 13

— WhoScored.com (@WhoScored) June 9, 2014
What do Milan do when Inzaghi also finds the squad is just a bit rubbish? Feel sorry for Seedorf, really. The worst squad I can remember

— Christopher Atkins (@ChrisAtkins_) June 9, 2014
Inzaghi confirmed as the new coach. Can't believe Milan are spending around €15m-€20m on severance packages and not on players.

— Sanjay Motwani (@ACMilanIsMyLife) June 9, 2014
Filippo Inzaghi is now the AC Milan manager. I saw him briefly in Milan a short while ago, undoubtedly one of the coolest person I've met!

— Secret Footballer (@TSF) June 9, 2014
Pippo Inzaghi is Milan's 3rd coach in the last 6 months. The last time it happened was in 2001: Cesare Maldini, Terim and Ancelotti.

— AC Milan News (@Milanello) June 9, 2014
"@102greatgoals: Inzaghi appointed new AC Milan coach." Rumoured that the dugout will be moved to an offside position, so he feels at home.

— Valta (@ValtaR7) June 9, 2014
So Seedorf's a free agent after bagging a hat-trick last night? I would 100% take him over Fellaini and Cleverley. #MUFC #KindofKidding

— Dov Rawson (@rawsondov) June 9, 2014
---