Picture: Vålerenga fans are accused off decapitating a statute outside Lillestrøm's ground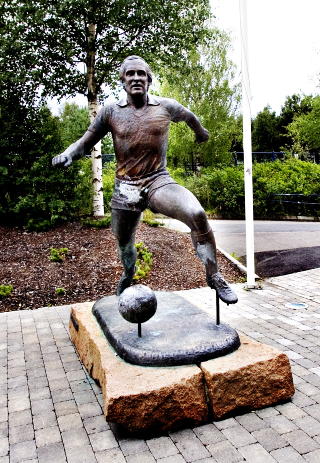 Who remembers when Bart Simpson cut off the head of Jebediah Springfield?
A new scandal has broken out overnight in Norway after Lillestrøm discovered that a statute of club hero Tom Lund had been decapitated by unknown vandals.
Next weekend in the Tippeligaen sees Lillestrøm play host to rivals Vålerenga, and belief is widespread that Vålerenga ultras chopped off the head Tum Lund's statute.
Lund is considered by some to be Norway's greatest football player of all time. The forward spent his entire career at Lillestrøm, despite receiving numerous offers from big clubs abroad, and in total Lund played 336 matches and scored 193 goals for the club. Lund also scored 12 goals in 47 appearances for Norway.
Kenneth Kvebæk, head of Lillestrøm's organised fans, has since blasted Vålerenga ultras for their supposed behaviour:
One does not have to be Sherlock Holmes to understand who has done this. It just adds to the ranks of low-brow behavior from the [Vålerenga] ultras. That they would sink so low, I had never imagined. Vålerenga celebrate their 100th anniversary this year. It's a hundred years of shame.
A picture of the decapitated Tom Lund statute outside Lillestrøm's ground is below.
---
GAMBLING CAN BE ADDICTIVE, PLEASE PLAY RESPONSIBLY