Picture: The Man City "£62 Where will it stop?" banner that was confiscated by Arsenal
Much of the build-up to Manchester City's visit to Arsenal was dominated by the news that the away team had failed to take up their allocation due to the high cost of tickets.
As a result, there has been plenty of debate about the high ticket prices that both home and away fans must endure to watch Premier League football.
The 62 pound ticket that Manchester City fans would have to pay at Arsenal is the figure that has been bandied about and was even mentioned by linesman John Brooks to Joleon Lescott at the end of the match.
Brooks said, in one of the most awesome clips ever heard from an official to a Premier League player, "they've paid 62 quid over there, go and see them." (See video below.)
Of course some Manchester City fans will point to the fact they won at Arsenal for the first time since the 1970s as proof that the day out in London was worth the expense.
One fan though, named Ricky Taylor, decided to form his own protest at the match by taking a banner asking  "£62 Where will it stop?".
This banner however, was confiscated by the Arsenal stewards at the Emirates. What happened to freedom of speech?! Shocking.
Picture and video below. Followed a couple of Tweets from Ricky Taylor.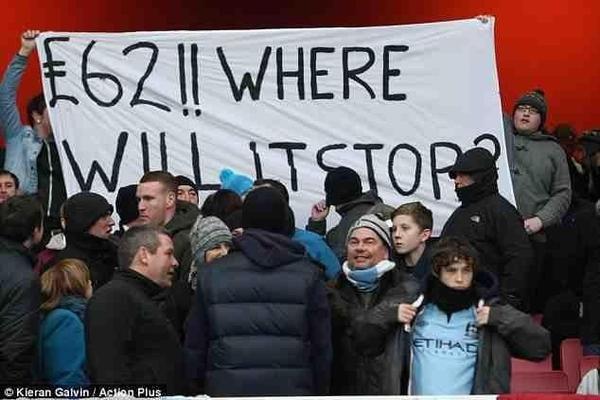 Buzzing with the city players at FT but it shouldn't take us paying £62 for them all to come over and show their appreciation like today

— Richard (@ricktaylor1987) January 13, 2013
You're shit and you charge too much #mcfcawaydays #afc

— Richard (@ricktaylor1987) January 13, 2013
---
GAMBLING CAN BE ADDICTIVE, PLEASE PLAY RESPONSIBLY