Picture: Lazio fined €10,000 for a Heysel banner aimed at Juventus' Michel Platini
Lazio have been fined €10,000 for a banner displayed in the crowd during Sunday's Serie A match against Fiorentina.
Lazio fans attacked UEFA President Michel Platini after the Romans were ordered to play their next two European home matches in empty stadiums following persistent problems of fans racism.
The Lazio fans response to their lockout was to hold up a banner which read:
Heysel 29/05/85. You had the strength to play…and to celebrate in the face of 39 deaths…Platini, you rotten pig, you have no morals.
Michel Platini was a Juventus player back at the 1985 European Cup Final against Liverpool at Heysel in Belgium, when 39 fans were killed when riots broke out and a wall separating Liverpool and Juventus fans collapsed. Juventus went on to win the match 1-0, Platini scored the winner from the penalty spot.
In other unrelated Italian news, Juventus were slapped with a massive fine of €4,000 for their fans racist chanting on Sunday against Catania.
A picture of the offending Lazio banner can be seen below.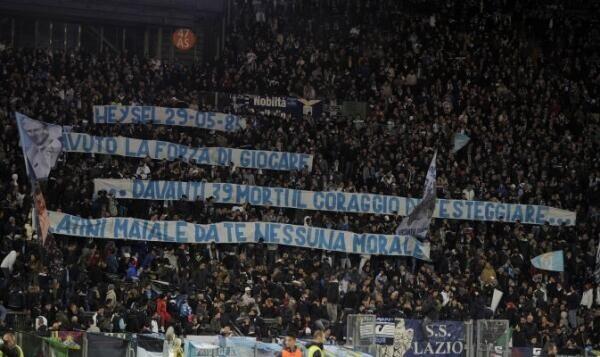 ---
GAMBLING CAN BE ADDICTIVE, PLEASE PLAY RESPONSIBLY