Pick on someone your own size! Hector Gaitan (Real Mamore) attacks Matias Marchesini (The Strongest)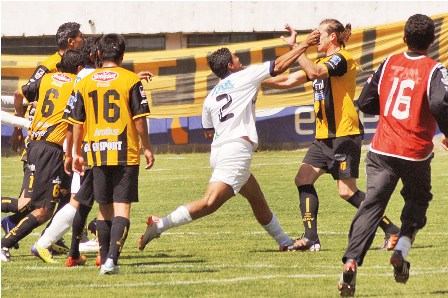 A crazy punch-up occurred last weekend in Bolivia.
The Strongest entertained lowly Real Mamore, and the contest was an easy victory for the hosts as they ran out 4-nil winners. Yet aside from the final result, the major post match talking point centred on the double first half dismissal of Real Mamore captain Hector Gaitan and his opposite number Matias Marchesini.
The flare up started in the 17th minute, just after The Strongest had established a 2-nil lead from the penalty spot.
Despite the spot-kick having already been converted, a throng of Real Mamore players ganged up on the referee to shout about the injustice which they felt had been served on them. Amid their protestations The Strongest's balky number two, Matias Marchesini, marched into the melee seemingly in an effort to restart play, only for him to become embroiled in verbal dispute with Mamore's dinky number 22.
With Marchesini and his tiny opponent hurling insults at each other, Mamore's well-built captain Hector Gaitan stepped into the fray. But Gaitan wasn't interested in breaking up the warring parties; instead he marched over to Marchesini and slugged him with a surprise right hook. And that was only the start!
After receiving an instant red card for his assault, Gaitan lost it. He broke free from all those trying to restrain him, dashed 15-yards towards Marchesini whilst provoking him with a come here! gesture, before hurling another two punches at The Strongest's centre-half. Marchesini, it must be stressed, refused to fight back.
Riot police and officials from both sides then flooded the pitch to quell the violence, but the peace was short-lived as the referee – for an unknown reason – sent off Matias Marchesini too. That dismissal sent the Argentine defender over-the-edge, and feeling victimised by the whole event, he charged after Gaitan who had already exited the pitch.
Watch the mental Bolivian brawl here.
---