Photoshoppers rip into Luis Suarez after he announces plans to leave Liverpool for Arsenal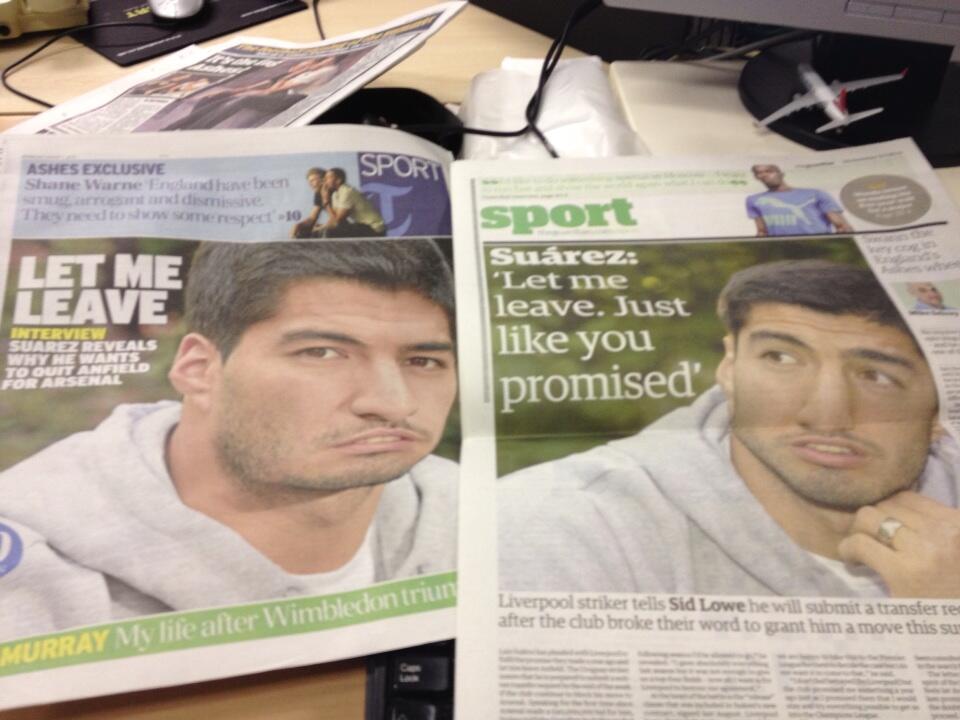 Surely he's done at Anfield now.
Two of the more reliable papers in England, the Guardian and Telegraph, both have EXCLUSIVE interviews with Luis Suarez on Wednesday where the Uruguayan's message is simple.
Suarez wants out of Liverpool and he wants to play in the Champions League. 
Whether that means Suarez will now join Arsenal, or perhaps Real Madrid, remains to be seen, but it now appears certain that Liverpool fans will never see Suarez playing in the club's number 7 shirt ever again.
After the news of Suarez's latest bombshell interview broke onTuesday night, photoshoppers have been busy applying their talents so as to rip into the South American striker.
Below are a series of the best jokes aimed at Luis Suarez this Wednesday.
Free the Liverpool 1. http://t.co/a5xJWYGc5g pic.twitter.com/KBCk54KeFx

— Nooruddean (@BeardedGenius) August 6, 2013
Hey @John_W_Henry I know it's tough but lets have a cigar and talk. pic.twitter.com/ZuCE4TEqzm

— Walid Arsenal (@1Walid1) August 6, 2013
Luis Suarez and his random access memories… http://t.co/LovN6n3yN9 pic.twitter.com/yMm0D7Vg3q

— Nooruddean (@BeardedGenius) August 6, 2013
Just done a cheeky edit ;) #suarez pic.twitter.com/TVuQwGY6pJ

— Oli (@GiroudAFC_) August 6, 2013
A morning chuckle to start the day!!…#suarez! pic.twitter.com/zLL4jjXtJp

— Richard Morris (@PropertyMorris) August 7, 2013
---
GAMBLING CAN BE ADDICTIVE, PLEASE PLAY RESPONSIBLY