Phone hacking case reveals that Rooney mobile password was Stella Artois, grandma hooker story was a lie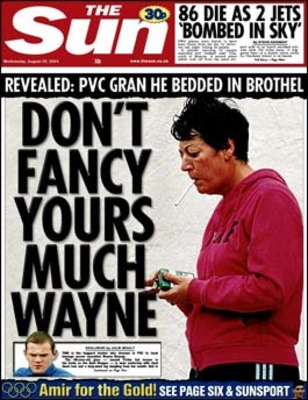 Manchester United striker Wayne Rooney was one of the many people who had his phone hacked by the News of the World, and the current phone hacking case has revealed a nugget about Rooney's online security protection.
According to evidence borne out in the hearings, Rooney's password for his mobile phone was the beer "Stella Artois".
Also discussed in the case were revelations about how the News of the World reported that Rooney had had sex with grandmother Patricia Tierney, who worked at Diva's massage parlour in Liverpool.
That story, which has since been proven to be untrue, was evidenced as such in court as the details of the lurid lie was retold.
A series of Tweets on how Wayne Rooney was involved in the phone hacking scandal are below.
Glenn Mulcaire's notebook shows password for Wayne Rooney's mobile was "Stella Artois" #hacking

— David Brown (@DavidhBrown) November 12, 2013
Woman who worked at massage parlour told Wayne Rooney to go home or his reputation would be destroyed. Denied having sex with him #hacking

— David Brown (@DavidhBrown) November 12, 2013
Patricia Tierney, then 48, was reported to have had sex with Wayne Rooney at Diva's massage parlour in Liverpool in 2003 #hacking

— David Brown (@DavidhBrown) November 12, 2013
Tierney, in statement to court, said Wayne Rooney visited massage parlour with friends before returning alone #hacking

— David Brown (@DavidhBrown) November 12, 2013
Statement from Patricia Tierney who received a lot of attention for an untrue incident at a massage parlour in Liverpool

— Peter Jukes (@peterjukes) November 12, 2013
---
GAMBLING CAN BE ADDICTIVE, PLEASE PLAY RESPONSIBLY