Pepe Reina's open letter on exiting Liverpool to join Napoli: "It was not my decision to leave"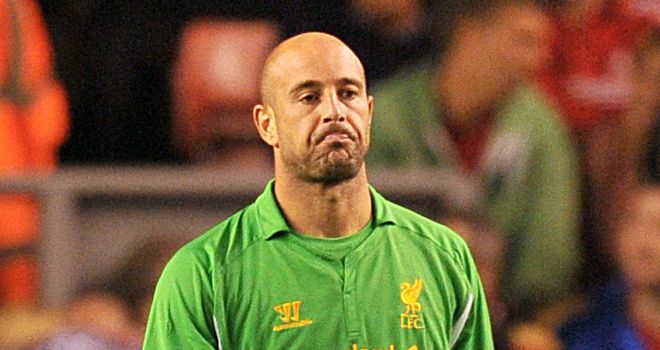 Pepe Reina has used his own website to write an open letter to Liverpool fans explaining why he has left Anfield to join Napoli.
In short, Reina has explained that he didn't want to move away from Liverpool this season, and his loan move to San Paolo has come about after the club decided that they no longer wanted Spanish international keeper on their books in 2013-14.
The meat of Pepe Reina's open letter were the following two paragraphs:
I am disappointed that I will not be part of that and although it was not my decision to leave I will accept it just like I have always accepted any decision that Liverpool have taken for me. They signed me, picked me, gave me some of the best experiences of my life and looked after me. If they feel that the best thing for me and for them is for me to go on loan to Napoli for a season then so be it. Napoli is a new challenge for me and I know that the fans are just as passionate about their team as the Liverpool fans, so I am really looking forward to playing for them this season and I will give my all.
But if I have one regret, it is the way that I am leaving. It is only natural that I would be disappointed that the Liverpool management agreed to loan me to Napoli without telling me first, I thought that I deserved better than that even though I understand that difficult decisions have to be taken in football. A lot has been made about me informing the club that if an offer came in from Barcelona that I would have liked them to consider it. But I had also spoken to the club about the possibility of extending my contract if the offer was not made. I told the manager that I wanted to play for Liverpool and that Barcelona would only become an option for me if the opportunity arrived, like the rumours said it would, as it would be a chance for me to go back home. When it didn't come I was happy to fight for my place so I was surprised that Liverpool decided it was in the club´s interests to send me to Napoli instead.
Liverpool's decision to farm 30-year-old Reina out the club this summer appears to be a direct result of the club signing Simon Mignolet from Sunderland for £9 million.
Reina, who is one of the highest earners at Liverpool, still has three years to run of his £110,000 per week contract.
Reina was signed by Liverpool from Villarreal in July 2005, and the Spaniard has since played 285 for the Anfielders. During his time on Merseyside Reina won the FA Cup in 2005-06, the League Cup in 2011-12, the FA Community Shield in 2006, and the UEFA Super Cup in 2005.
---
GAMBLING CAN BE ADDICTIVE, PLEASE PLAY RESPONSIBLY