Pep Guardiola shows off his German at Bayern Munich unveiling [Video & pictures]
"I am ready. It's a new challenge for me a new goal being here. My time in Barcelona was marvellous but I needed a new challenge and Bayern Munich gave me that chance. They presented me with the opportunity and I am ready to give my best and I am certain that all the fans of Bayern will continue to live with pride and I hope it will be an era of pride for all." – Pep Guardiola.
After a sabbatical in New York, Pep Guardiola returned to football by producing some rather impressive German at his unveiling at Bayern Munich on Monday.
On why he chose Bayern ahead of the lure of the Premier League, Pep said: "I chose Bayern above all for their players and their history. I decided above all for these reasons because it's a massive club in the world. The directors and the bosses and decision-maker. They called me and I am here."
And, on how he replaces treble winner Juup Heynckes, the former Barcelona coach added: "I have to be in condition to live with this reality. In a great club as manager you always great pressure. I also have pressure here but I have it clear and I am conscious of it and I accept this huge challenge. That is why I am a manager. At times a coach takes the reins of a team that has dropped a level. That was my case at Barcelona when I started with the reserve team at Barca. Sometimes you are 18 points behind and that is what happened in my first season at Barca. Today the situation is totally different."
Looking seriously dapper, it looks like Guardiola has impressed the massed media at his unveiling. His German was apparently honed whilst in New York, where he was taught by a Borussia Dortmund fan!
Pere Guardiola, Pep's brother and agent, said "He has been studying like a madman." Video and pictures below.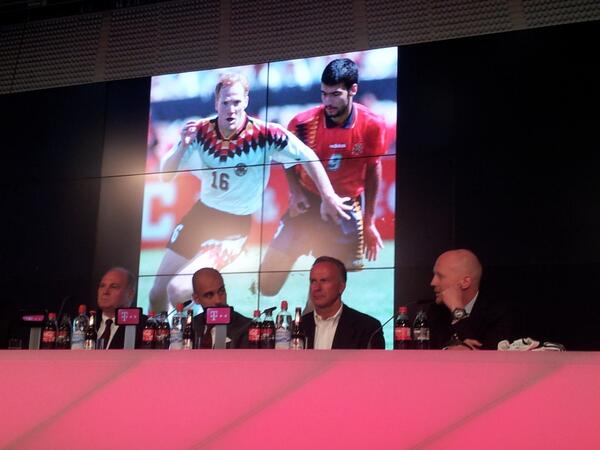 ---
GAMBLING CAN BE ADDICTIVE, PLEASE PLAY RESPONSIBLY