Paula Morais agreed to marry Brazilian hero Ronaldo this weekend and his proposal can be seen on Instagram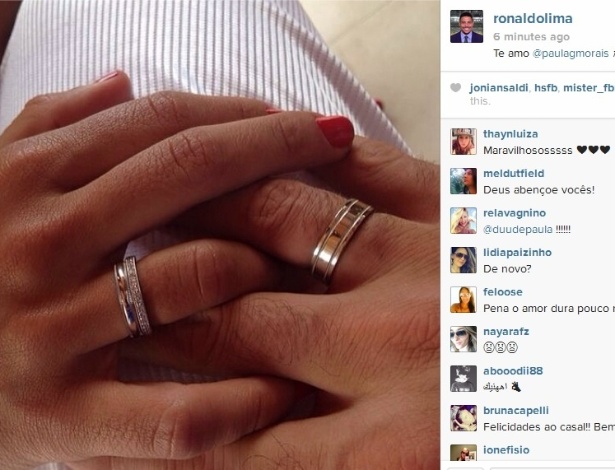 Mazel tov Ronaldo!
One of the greatest footballers of the last generation, Il Fenomeno, had something new to celebrate at the weekend as he got engaged to girlfriend Paula Morais on her 28th birthday.
Ronaldo, 37, proposed to his DJ girlfriend in a front of a group of friends at an intimate party setting, after the Brazilian legend had rushed to the event from the 2014 World Cup draw.
A video on Instgram sees Ronaldo pulling out a ring and Paula Morias laying a big kiss on his lips, while the crowd chanted "Aceita, aceita, aceita!" (Accept! Accept! Accept!) in the background.
Ronaldo later posted an image onto social media holding hands with Morias as the pair wore shiny rings. Ronaldo added the message "Love you, Paula Morais."
For the record, Ronaldo has been married three times previous, while he has four children by three different women.
Watch the moment that Paula Morais agreed to marry Brazilian hero Ronaldo below.
---