Paddy Power fly a 2nd plane banner over Old Trafford, reading 'Fergie back in 6/1'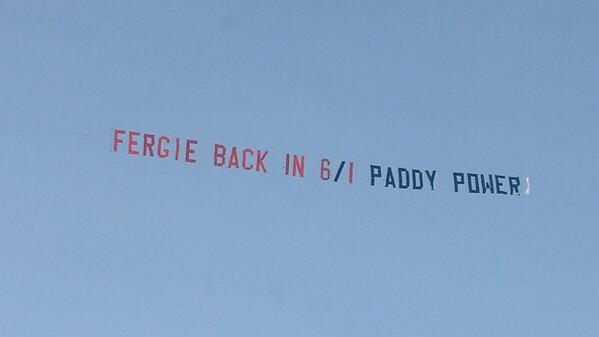 Planes over Old Trafford are like London buses: you wait an eternity for one, then two show up one after another.
Irish bookmakers, always in the Wide Awake Club when it comes to risque and opportunistic advertising, decided to get involved in all the banner fun at Old Trafford today.
Aware that there would be a 'Moyes Out' banner flying over the stadium, Paddy Power coordinated a second plane to fly over just after, theirs bearing the banner 'Fergie back in 6/1.
Nice coup for Paddy Power; but can those odds be for real…?!
---