One of the worst challenges you will ever see: Rubén Rayos (Maccabi Haifa) on Rafi Dahan (Bnei Yehuda)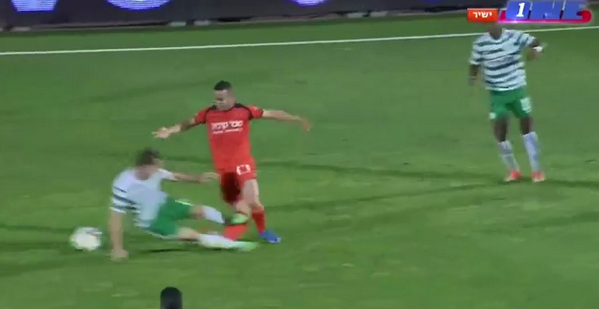 Last week we saw a 28 game ban handed out in Vietnam for a shocking challenge – this could well be even worse.
Israel is in uproar on Monday morning following one of the worst assaults ever seen on a football pitch – no exaggeration.
Spaniard Rubén Rayos slammed into Rafi Dahan with a two-footed challenge of extreme force, late on in Maccabi Haifa's 2-2 draw with Bnei Yehuda.
To add to the injustice felt by Bnei Yehuda, they were leading 2-1 at the time and Maccabi Haifa equalised in the 96th minute of injury time for a 2-2 final score.
Rafi Dahan has not held back with his assessment of the challenge, which will likely see him have to postpone his wedding which had been planned for three weeks from today.
Dahan said: "Rayos tried to end my career… I will never forgive what he did to me. Its a crime."
Rayos, a former Barcelona B player, was sent off immediately amid calls for him to be banned as long as Dahan is out the game for.
Thanks for the tip and information on this shocking challenge via Nave Segal on the 101GG Facebook page.
Best football betting tips & free bet offers
Click here for more Premier League betting tips
---