One of the all-time great nutmegs! Dani Alves pokes the ball through legs of Cristiano Ronaldo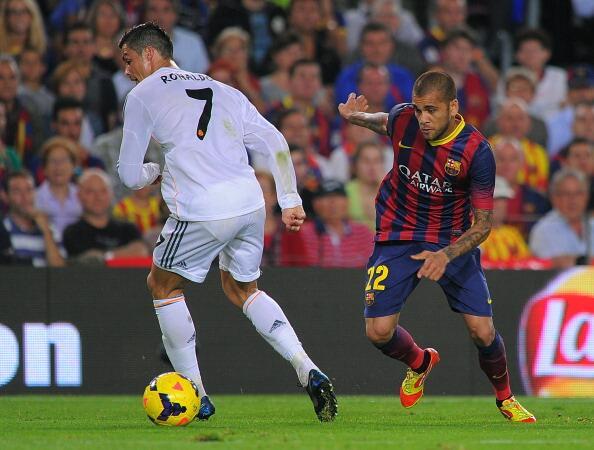 Rating nutmegs is often a complicated business.
But, throwing in the timing plus who is on the receiving end, it is fair to say the Nou Camp absolutely loved Dani Alves embarrassing Cristiano Ronaldo on Saturday night.
Quite why Ronaldo was in the left back position is a question for Carlo Ancelotti as well as testament to how much effort Cristiano Ronaldo puts into a match.
But, for the Portuguese forward it was a moment he will want to forget, as the Brazilian did to Ronaldo what the Real Madrid forward has been doing for years.
Alves' Nuts was embellished by the slick spin turn in the lead up to the nutmeg and coming in an El Clasico, with Barcelona 2-0 up, it will likely be remembered for years…
If only Alves had gone on to score!
---
GAMBLING CAN BE ADDICTIVE, PLEASE PLAY RESPONSIBLY