One Direction fans threaten to kill Gabby Agbonlahor for going in hard on Louis Tomlinson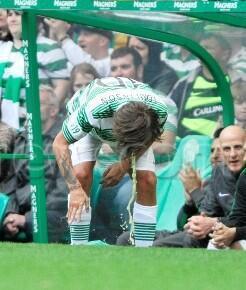 It was just a charity match, but Aston Villa forward Gabby Agbonlahor committed a heinous crime on Sunday afternoon, he crunched into One Direction star Louis Tomlinson.
See: Gabby Agbonlahor leaves 1D's Louis Tomlinson in crumpled heap during Petrov' charity match.
A Celtic XI were defeated 5-3 by Stiliyan's XI with goal scorers such as Dimitar Berbatov and Henrik Larsson, but you would not have known much about the actual football if you were following on Twitter.
Hashtags such as:#GoodLuckForTheMatchLouis, #ProudOfLouis and #WeAreProudOfYouLouis, were trending for much of Sunday afternoon in the UK.
And, some of the abuse aimed at Gabby Agbonlahor got a little ridiculous!
Best Tweets below.
My whole timeline is full of pictures of Louis getting hurt. I'm going to kill that guy!!!!!!!! HOW DARE YOU HURT LOUIS?!

— ProudOfYouLouis:') (@_amyloves1d) September 8, 2013
@Louis_Tomlinson Are you ok?? If he hurt you I promise that I'll kill him!!! No one can hurt my baby!!! Grrrr!! pic.twitter.com/N6WeDKeopA

— Isa Salamanca (@isa_loves_One_D) September 8, 2013
@gabby_10 This guy hurt Louis knee. I shall hurt your face. I better hear that you apologized or I will find you, and I will kill you.

— #Ella (@Omg_Its_Ella) September 8, 2013
Didn't have Gabby Agbonlahor down as a woman beater… Very shocked

— John NOT Terry (@BigJohnTerry) September 8, 2013
If United were to sign Agbonlahor in January purely for this, I'd be cool with that.

— Big E Woodward (@DanTheDazzler) September 8, 2013
So Gabby Agbonlahor took out a 1D member in a charity match? Give Gabby knighthood NOW

— FG (@FunnyGooner) September 8, 2013
---