Olivier Giroud stars as Arsenal qualify for the CL last 16 with brilliant win v Olympiakos [Best Tweets]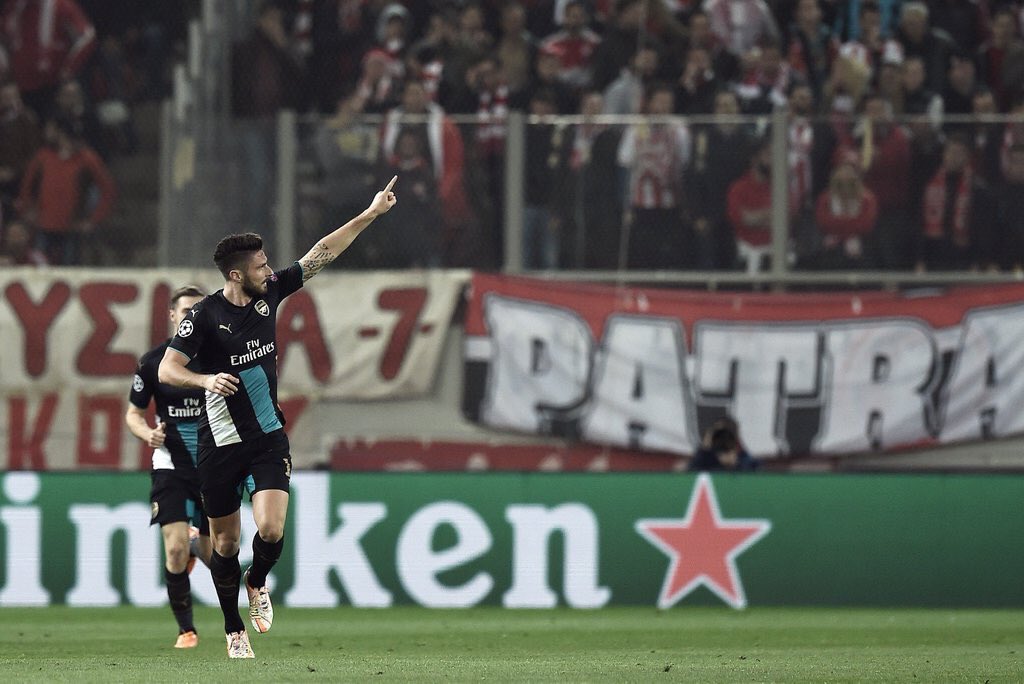 Olivier Giroud was the Arsenal hero, as the Gunners did what many people thought was impossible, and beat Olympiakos convincingly in Athens to reach the knockout stages of the Champions League.
Arsene Wenger's side needed to win by a two goal margin, or a one goal margin greater then 3-2 in order to qualify from their group, and the Arsenal players delivered winning comfortably by a scoreline of 3-0.
Arsenal striker Olivier Giroud was the Gunners' hero, as the Frenchman grabbed a hat-trick for his team.
Giroud scored with a header in the first half to send Arsenal 1-0 up at the break, before the 29-year-old bagged two more goals in the second half to seal the Reds' progression into the knockout rounds.
At the full time whistle Arsenal fans were quick to praise the Gunners striker, who at times has come under pressure from fans at the Emirates for some of his performances this season.
Check out some of the Tweets below.
Ronaldo scored 4 vs Malmo: Best in the world. Giroud scored a hat-trick, vs Olympiacos, away from home, when it mattered most. Nobody said.

— Xtraterrestial Fly (@_katungu) December 9, 2015
Ronaldo scored 4 vs Malmo: Best in the world. Giroud scored a hat-trick, vs Olympiacos, away from home, when it mattered most. Nobody said. — Xtraterrestial Fly (@_katungu) December 9, 2015
We have all criticised Giroud in the past but what an important time to prove us all wrong. The guy needs credit.

— AFC Dan (@Ozilliant) December 9, 2015
Giroud has silent critics today, step-up when needed — Auwal Sageer M. (@auwal_yaks) December 9, 2015
Giroud has scored more goals in 1 match than Rooney all season!

— Arsenal News (@__arsenalnews_) December 9, 2015
I never wanna hear an #arsenal fan ever slate Giroud ever again!!!! #GoonerFamily — Dean Mobley (@mobley10) December 9, 2015
@AbodKova in Giroud we trust 😍

— M7ssn. (@OxGunner) December 9, 2015
arsenal fans are so fickle when it comes to some of their players, rated giroud since day — raz (@razxtank) December 9, 2015
Olivier Giroud tonight decided to show up in one of Arsenal's most crucial games.

— Fouad AFC (@FouadAFC) December 9, 2015
1) Messi 2) Neymar 3) Giroud — kalam hussain (@kalam92) December 9, 2015
On a deciding night when half of the squad is out injured, Olivier Giroud stepped up and delivered!! #Underrated

— Arsenal News (@__arsenalnews_) December 9, 2015
Giroud has been criticised a lot and has been the scapegoat, but he loves he fans and gives his everything. His commitment is unquestionable — Sir Jenkinson (@theEpicGooner) December 9, 2015
---
GAMBLING CAN BE ADDICTIVE, PLEASE PLAY RESPONSIBLY