Ole Gunnar Solskjaer officially takes over at Cardiff [The best Tweets]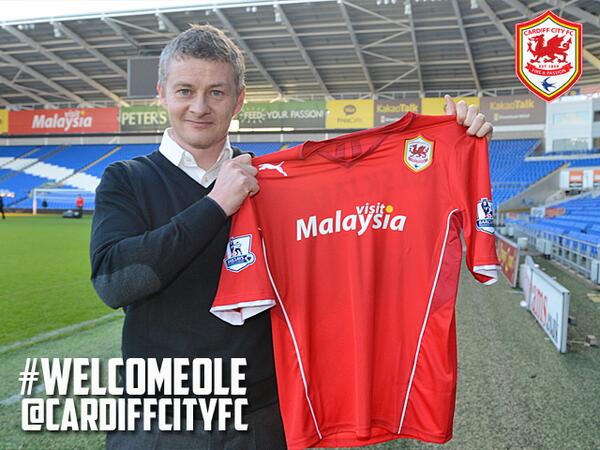 Yesterday was effectively the day Ole Gunnar Solskjaer became Cardiff manager – he wouldn't have taken Vincent Tan's private jet from Norway to London and watched his new team at the Emirates if it wasn't going to happen.
Solskjaer is a very exciting addition to the coaches in the Premier League, after a hugely successful time at Molde, where he won the club their first two league titles.
The former Norway forward is also universally liked in England, after becoming the "baby faced assassin" and a legendary player and specifically substitute for Manchester United.
It is that grounding on the bench that appears to play a part in his managerial style and understanding of the modern game nowadays and whatever you think of Vincent Tan, this is a real coup.
Arsene Wenger called Cardiff the "fittest team in the Premier League" yesterday, if they can add a little more guile and craft, they should have no problem staying up.
The best Tweets on Ole Gunnar Solskjaer taking over at Cardiff are below.
BREAKING: @CardiffCityFC are delighted to confirm the arrival of Ole Gunnar Solskjaer as first team manager. pic.twitter.com/8tisnayWDu

— Cardiff City FC (@CardiffCityFC) January 2, 2014
Solskjaer on Vincent Tan "He wants the club to be successful, this is a man who wants the club to succeed, I had a good meeting with him"

— BBC Wales Sport (@BBCWalesSport) January 2, 2014
Wish Ole Gunnar Solskjær all the best. Great day for him and Norwegian Football. Great job at Molde and Ole Gunnar has loads of HumanCapital

— Jan Aage Fjortoft (@JanAageFjortoft) January 2, 2014
Great to see OGS back in the premier league. Intelligent, with a studious football brain and works his backside off. #lethimdohiswork

— Gary Neville (@GNev2) January 2, 2014
United v Cardiff Jan 28th 19.45 KO. OGS returns to OT.

— Gary Neville (@GNev2) January 2, 2014
17 – Only Jermain Defoe (21) has scored more goals off the bench in Premier League history than Ole Gunnar Solskjaer (17). Impact.

— OptaJoe (@OptaJoe) January 2, 2014
Actually, I suppose it does make sense for Solskjaer to be subbed on as manager half way through the season.

— James Maw (@JamesMawFFT) January 2, 2014
Cardiff have given Solskjær a rolling contract. I suppose that's a sign of trust.

— Jonas Giæver (@CheGiaevara) January 2, 2014
New @CardiffCityFC manager Ole Gunnar Solskjaer made 235 #BPL appearances for @ManUtd, scoring 91 goals pic.twitter.com/OwUOmdUkoU

— Premier League (@premierleague) January 2, 2014
Tan is single handily taken Cardiff City down! Good player but surely out of his depth straight into a relegation battle? #Solskjaer

— Steve Jauch (@Stevejauch) January 2, 2014
I bet solskjaer will be out of the job next season, Vincent tan brought him in to win the World Cup

— Raheel (@TheRaheelDeal21) January 2, 2014
---