"Old Traddord" & MUTV team sheet go viral after Man United-Inter
Oops! FedEx Field welcomes #MUFC: pic.twitter.com/0GGDxYGqsB

— Steven Goff (@SoccerInsider) July 29, 2014
On the pitch, Manchester United drew 0-0 with Inter Milan in 90 minutes and beat the Nerazzurri on penalties in the early hours of Wednesday morning UK time.
With little to write home about, besides some fine passing from United and the appearance of Luke Shaw, despite question marks over his fitness, a couple of pictures have gone viral in the aftermath of the pre-season friendly.
There was a rather large welcome to the Manchester United squad, by way of the scoreboard before kick off.
Perhaps eager to educate American fans in attendance, it called Manchester United's home ground as "Old Traddord."
A shocking error even if the "d" and "f" are next to each other on the keyboard!
Not to be outdone, Manchester United's in-house TV channel produced arguably the worst ever team line-ups sheet seen on a screen for some time.
See if you can spot how many mistakes. It looks like there are at least nine!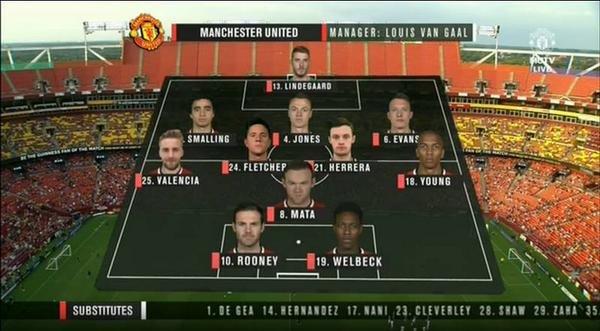 ---
GAMBLING CAN BE ADDICTIVE, PLEASE PLAY RESPONSIBLY