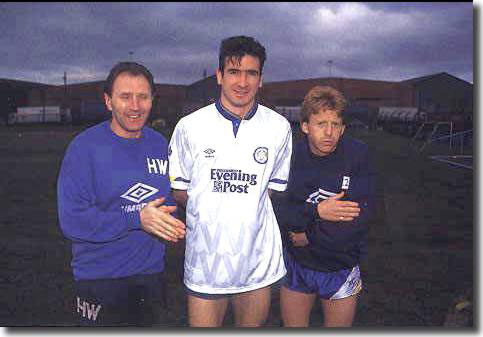 Comment & analysis round-up
Quote of the day: "I had a bad relationship with the manager, Wilkinson. We didn't have the same views on football. I am more like a Manchester footballer. At Leeds,  football was played the old way – I think you say kick then rush. But it was very important to play for Leeds at first because I learnt a lot with this kind of football. And we had success. If I don't feel the environment is good, I don't want to be there. 'It's like with a woman: sometimes you can't find love, sometimes you can, but  it's still not right, you want more, you want to give, you want to receive. I'm not sure that I would like to be with a woman who is like some of the chairmen I met." – Eric Cantona.
Runner-up: "I didn't really celebrate my first goal because I was still angry and disappointed with myself over the one I missed. I was embarrassed. For a guy who has been bought for all this money, I must take these chances, which is why I was angry. I was relieved, obviously, to score when I did. First of all, I was disappointed to miss my first chance because, sometimes in games, you get only the one chance. It was really frustrating, but I just kept trying and, of course, in the end I scored two. The pressure is always there and I hope I can deal with that with the help of my team-mates. I find myself sitting at home sometimes, thinking, 'Hey, I'm at Manchester United!' I'm the happiest guy and it's a wonderful thing, but you must keep fighting in every game." – Dimitar Berbatov.
Today's overview: The big story this Wednesday is the injury crisis building up at Chelsea, with Matt Hughes and James Ducker ("eight first-team players carrying knocks"), John Ley ("Chelsea rarely looked like scoring and the injury to Drogba, in only his third start following trouble with his other knee, could leave Scolari with more problems") and Jason Burt ("No goals in Transylvania. But another horror show") all counting the cost of the Blues' trip to Romania.
As has been the case for weeks now, discussion of the latest events at Newcastle also take up sizable column inches. Harry Redknapp gives Joe Kinnear a vote of confidence, preparing readers not to "be shocked if he is still there in 18 months." But most of the focus centres on the latest in the takeover at St. James'. On the Nigerian consortium, Gabriele Marcotti writes "It doesn't take a genius to figure out that if and when we find out the identity of the Nigerian entrepreneurs, there will be the usual calls about how 'fit and proper' they might be (as if every Nigerian was a 419 scammer)."
But it now seems that the South African bid is gaining momentum. Damian Spellman reports that the group "who like their Nigerian counterparts want to re-install Keegan, will offer the 57-year-old a stake of up to 10 per cent in the business if he returns." More details of the South African consortium are delivered by Michael Walker, "Johann Rupert is the most significant figure to have emerged. Rupert has been described as South Africa's richest man. Two other names that have surfaced are Brian Joffe and Vivian Imerman. It was claimed yesterday that a bid of £280m has been lodged already by the collective and that their first aim would be to restore Kevin Keegan to his post as manager and offer him a share in the club, much as the five percent shareholding Peter Reid had at Sunderland."
John Nicholson calls for Newcastle fans to take their destiny into their own hands and buy the club themselves. While subtly, Nick Hoult has a word of warning for Newcastle, listing the top 10 teams who were too good to go down.
Manchester United are also featured in the papers. Paul Parker remains unconvinced by Manchester United so far this season ("Forget about the three points, there's nothing better than a good performance"). Stirring up trouble, Neil Custis investigates whats gone wrong with Cristiano Ronaldo ("The club and player claim everything is now back to normal — but how can it be?"). Perhaps Custis should have spoken with Simon Stone in the Independent, who reports that "Cristiano Ronaldo has admitted it will be another three weeks before he has fully recovered from his summer ankle operation."
Another hot topic revolves around David Davies' latest revelations from his autobiography. Of the gravest problems, Matt Dickinson reports on the controversial news that the FA were offered the chance to buy votes for its 2006 World Cup bid. Taking a more global approach, Jasper Gerard concludes that "will English football ever walk through the gate marked 'penalty shoot-out' and lift another World Cup? From what we've learnt about the senior figures running our game, don't hold your breath." Finally, the Daily Mail serves up the latest installment, where we learn that "Guus Hiddink was my [Davies'] first choice to succeed Sven Goran Eriksson in 2006."
In the best of the rest, Steve Wilson reacts to Reuben Noble-Lazarus debut for Barnsley aged just 15 years and 45 days by looking into some of the other record-breaking youngsters throughout football's history, Ben Lyttleton looks at why Jerome Rothen's autobiography has angered Zinedine Zidane, Paul Watson begins to question Fiorentina's ability to compete at the highest levels, and James Montague looks into the latest problems facing the Iraqi football team, before reaching a relatively happy conclusion.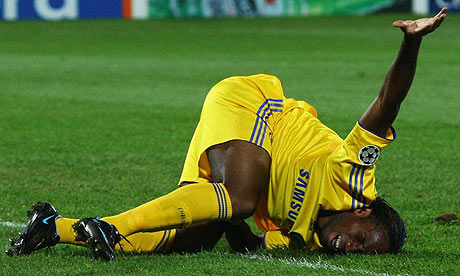 Following last night's draw in Cluj, Matt Hughes and James Ducker (The Times) start to count up the walking wounded at Stamford Bridge. "Chelsea's early-season injury problems deepened last night when Didier Drogba was taken off on a stretcher after suffering knee ligament damage during the goalless Champions League draw against CFR Cluj in Romania. The Ivory Coast striker will have a scan today but is likely to be out for at least six weeks… With John Terry (back) and Alex (buttock) also picking up injuries last night — Ashley Cole was ruled out just before kick-off with a sore back, although he is expected to be fit for the weekend — the Brazilian conceded that he may struggle to raise a side, with eight first-team players carrying knocks. Michael Essien, Ricardo Carvalho and Deco are definitely out and Joe Cole is doubtful after being left at home with a hip injury."
John Ley also reports on a difficult night for Chelsea in the Telegraph. "Though Chelsea protected their unbeaten record, it was the first time that they have failed to score under Luiz Felipe Scolari and completed a miserable night for the manager. Transylvania has rarely witnessed a sporting occasion such as this and CFR Cluj, an unknown quantity, equipped themselves well, threatening to claim a shock result with a succession of wasted first-half chances. In contrast, Chelsea rarely looked like scoring and the injury to Drogba, in only his third start following trouble with his other knee, could leave Scolari with more problems."
Chelsea's injury "crisis" is summed up by Jason Burt in the Independent. "No goals in Transylvania. But another horror show. Didier Drogba was carried off last night with suspected ligament damage to his right knee and, possibly, although as yet unconfirmed, a fracture to his ankle after crumbling under an innocuous looking challenge. If the early fears are realised – and he was being X-rayed after the match and will undergo scans today – then it is a hammer blow to Chelsea's ambitions this season. Injuries are piling up. It is a real crisis now. A real drama. No hammed-up construct. Drogba is added to Deco, Ricardo Carvalho, Joe Cole and, of course, Michael Essien as being ruled out. Chelsea also lost Ashley Cole, with a back strain, prior to kick-off with manager Luiz Felipe Scolari also declaring that both John Terry and Alex played most of the game injured."
Turning to Newcastle, Harry Redknapp gives Joe Kinnear a boost of confidence and support in his column for The Sun. "Joe Kinnear is not visiting Newcastle to collect a nice little nest egg — don't be shocked if he is still there in 18 months… one thing Joe is good at is motivating players. It was the main weapon in the armoury for the old Wimbledon Crazy Gang under Joe. And look what they achieved. Self-belief is the key. Newcastle have a great deal of quality players on the books, unlike the old Dons. Joe will have to convince the players to stop feeling sorry for themselves, tell them the owner's problems are not their problems and it is no excuse. Sometimes a new face around the corridors can do that. And as for him being past it at 61 . . . rubbish. It is the new 21 — and purely a coincidence he's exactly the same age as me!"
Gabriele Marcotti has a series of shorts on The Times blog, his final point touching on the stereotypes connected to Nigerian takeover bid of Newcastle. "Their identities – for some reason – are a closely guarded secret, but the guy who represents them, Chris Nathaniel is well known. He's a rising star who runs a company called NVA management. On his website, you can see him posing for pictures with everyone from Rio Ferdinand to Micah Richards to John Terry. It doesn't take a genius to figure out that if and when we find out the identity of the Nigerian entrepreneurs, there will be the usual calls about how "fit and proper" they might be (as if every Nigerian was a 419 scammer). Such facile and ignorant stereotyping aside, there is a far more relevant question: if his clients do take over Newcastle, won't Nathaniel be facing some kind of conflict of interest given the fact that he represents a number of high profile footballers?"
But over at the Independent, Damian Spellman reports that the rival South African bid for the Toon could have the edge after offering Kevin Keegan equity in the club. "The Evening Chronicle, the city's evening newspaper, have reported that the South Africans, who like their Nigerian counterparts want to re-install Keegan, will offer the 57-year-old a stake of up to 10 per cent in the business if he returns. There have been suggestions that the group of five so-far-unnamed businessmen have already tabled an offer of £280m, within touching distance of the figure Ashley is thought to want for the club."
More details on the South African consortium are then provided by fellow Independent scribe Michael Walker, who reveals some of the identities of the group. "In sporting terms, and perhaps economically, Johann Rupert is the most significant figure to have emerged. Rupert has been described as South Africa's richest man. Two other names that have surfaced are Brian Joffe and Vivian Imerman. It was claimed yesterday that a bid of £280m has been lodged already by the collective and that their first aim would be to restore Kevin Keegan to his post as manager and offer him a share in the club, much as the five percent shareholding Peter Reid had at Sunderland… Rupert is known in British sport via his background ownership of rugby club Saracens – in March one of his companies, VenFin, purchased a stake in the holding company that owns Saracens, Premier Team Holdings – and also because four years ago he and other South African businessmen and rugby players proposed the creation of a new club that would represent South Africans in London."
The always provocative John Nicholson (Football 365) calls for Newcastle fans to take their destiny into their own hands and buy the club themselves. "Now is not the time for faint hearts, the time for the whining and whinging and bitching to stop has come. It's no use just hoping something better will come along and make everything alright. It's time to take NUFC, a quintessential 'people's club', to the bosom of those who love and understand it best. A peoples' revolution to over-throw the regimes which seek only to profit financially from the club or who want to use it as a play-thing or as a place to do their corporate business deals… It's a time to be realistic and to end the irresponsible worship of false Gods and fly-by-nights. It's time to stop complaining, get off your knees, dry your tears and take action."
The Telegraph's Nick Hoult has a word of warning for Newcastle and Tottenham, listing the top 10 teams who were too good to go down. "West Ham 2002-03 It was a fitting end to a bitter and acrimonious season at Upton Park. Sir Trevor Brooking stepped in to look after his beloved club after Glenn Roeder was diagnosed with a brain tumour but even he could not rescue a team that contained future England internationals Glen Johnson, Michael Carrick, Jermaine Defoe and Joe Cole."
Another pundit who is rarely satisfied, Paul Parker (Eurosport), is still unconvinced by Manchester United so far this season. "Forget about the three points, there's nothing better than a good performance to give players the confidence they need to go and win the next match. And on the pitch over the past few weeks United have failed to demonstrate that they are the finished article quite yet. Take the game in Denmark. United gave the ball away cheaply and did not convince against one of the poorest sides in the competition. That the Danish side have Marek Saganowski – a player who could not even make the grade in the Championship – leading their line speaks volumes. If it had been Arsenal playing at the Energi Nord Arena, the Danish champions would have ended up on the receiving end of a mauling – but United never threatened to do that."
Keeping with Manchester United, Neil Custis (The Sun) investigates whats gone wrong with Cristiano Ronaldo. "The club and player claim everything is now back to normal — but how can it be? Certainly the evidence of the Euro clash against Aalborg in Denmark told a different story. Let us remind ourselves this player was always the bubbliest on trips, wanting to be the centre of every joke and jape. On Monday, on the flight out he sat alone and pensive. On arrival at the small Danish airport he stood apart from the rest of his team-mates, who were joking and signing autographs. Only when the team began to file out of the baggage area did his Portuguese team-mate Nani go over to Ronaldo and beckon him to join the end of the line. On the eve of Champions League matches the team always train at the stadium they are to play in. The first 15 minutes of the session are open to the Press, when players indulge in a footballing game of piggy in the middle. Ronaldo always used to enjoy this — not on this occasion, however."
Clearly Custis failed to read Simon Stone in the Independent, who reports that "Cristiano Ronaldo has admitted it will be another three weeks before he has fully recovered from his summer ankle operation… the 23-year-old confirmed he is still not 100 per cent and United will not see the best of him until after next month's international break. 'It will be another two or three weeks before I can give 100 per cent,' he said. 'I feel very good. There is good improvement there and I am very happy to be back. But my ankle has still not fully recovered. I still feel it a little bit. But the medical staff say that is normal and I feel very confident about the future.' To most pundits' surprise that future, on an immediate basis at least, will be at Old Trafford."
Rob Hughes (IHT) takes time out to analyse Arsenal's tactics. "The nucleus of Arsenal's mastery stems from midfield. There is not a man there over the age of 21, yet Cesc Fábregas guides and controls the movement, Denilson his Brazilian partner learns by the month, Samir Nasri, the latest French addition, reads and understands and moves with the flow as if he were born to it. And when Carlos Vela, the 19-year-old Mexican for whom Arsenal has waited two years while he acquires a work permit to play in England, came on as a substitute, he picked up the pace with marvellous invention. Arsenal's team shape is changing. It now lines up four men across the defense. Like Manchester United the European champion, it holds back two midfield players to stabilize the area in front of that rear line. Then there are three midfielders going forward, Theo Walcott and Nasri on the wings, van Persie floating behind the lone front runner, the immensely long-striding Adebayor."
With the release of David Davies' new autobiography, Matt Dickinson reports in The Times of the controversy stemming from the revelation that the FA were offered the chance to buy votes for its 2006 World Cup bid. "Fifa's record on tackling internal corruption is poor, to say the least, raising more troubling questions about the fairness of any bidding process. 'We were not left in any doubt,' Davies goes on. 'Financial sweeteners could help bring in 2006 votes. Some other countries could take short cuts, could walk in the sport's shadows. Not us. We were the FA, guardians of the game's spirit and ethics. However pompous that mission statement can sound, it defined our attitude.'… England lost out to Germany for the 2006 World Cup, although it is unlikely that the Germans would have needed to buy votes, given that their bid was always far more strongly backed by the hierarchy of Uefa and Fifa."
The Telegraph's Jasper Gerard also reviews David Davies' new book. "He joined the FA in 1994 before Sky money really transformed domestic football. Does he think the game is in a better state now? 'There are still major issues such as the gap between poor and rich clubs, but back then we still had Hillsborough and Bradford hanging over us and racism was quite widespread. I do worry for the traditional supporter, but I think football is better.' His main objection is the "hype" – even Wigan v Hull is billed as a titanic struggle – but 'our game is a global soap opera. When I was director of public affairs, football as news was only behind the royals and the government. But would we really have wanted it to be a tucked away little sport?' Probably not. But will English football ever walk through the gate marked "penalty shoot-out" and lift another World Cup? From what we've learnt about the senior figures running our game, don't hold your breath."
In today's latest offering in the Daily Mail from Davies' autobiography, we learn that "Guus Hiddink was my first choice to succeed Sven Goran Eriksson in 2006. Knowing Guus from his days with Australia, I'd long admired this inspiring, intelligent coach. When the FA began laboriously drawing up a short-list of candidates to be interviewed, Guus's interest waned. Someone who had achieved so much didn't wish to join a beauty parade to show off his talents. Guus thought the FA process would be a circus, which it inevitably turned out to be, before descending into farce. If the FA had been quick and enthusiastic, Hiddink probably would have accepted the job. But they insisted on c.v. and 'prove yourself' interviews. What happened next? Hiddink's Russia qualified for Euro 2008 instead of England, before earning lavish praise for the tactical sophistication of their football in reaching the semi-finals. FA chief executive Brian Barwick and Simon Johnson, the director of corporate affairs, knew how they wanted to recruit for 'the impossible job'. Rightly, I played no significant part in the recruitment of Sven's successor. By then, my retirement plans were well advanced and well known inside the FA, but I helped organise the famous interviews at Sir Victor Blank's estate in deepest Oxfordshire."
The Telegraph's Steve Wilson reacts to Reuben Noble-Lazarus debut for Barnsley aged just 15 years and 45 days, by looking into some of the other record-breaking youngsters throughout football's history. "Youngest player in World Cup history: Souleymane Mamam, Togo – Fifa's record books show that Mamam was a remarkable 13 years and 310 days old when the attacking midfielder lined up for Togo against Zambia on May 6 2001 in an African qualifier. Mamam signed for Manchester United in 2003 though due to work permit issues was farmed out to Royal Antwerp on loan, before making that move permanent before ever playing for United. A failed trial with Motherwell highlights his decline since. There is dispute over this record, with Antwerp suggesting the player is two years older than the date given on his passport."
Ben Lyttleton (Guardian) looks into the latest controversy in France, with Zinedine Zidane upset over revelations in Jerome Rothen's autobiography. "The offending extract focuses on an incident during the second leg of Monaco's 2004 Champions League quarter-final win over Real Madrid. Monaco had overturned a 4-2 first leg deficit, and were 3-1 up with seconds left to play when Zidane tackled Rothen from behind. 'It was a foul and I went down, admittedly I made a bit more of it, but anyone would have done the same, as we were trying to buy some seconds,' Rothen wrote. 'Zidane leant over me and said: 'Get up, you son of a bitch." The expression Rothen claims Zidane used, 'fils de pute', is a variation on what Marco Materazzi is alleged to have said to Zidane before the head-butt that proved the iconic moment of the 2006 World Cup final. 'I was surprised but put it down to his frustration, and I expected him to apologise at the end of the game, but he said nothing,' Rothen continued. 'I thought the next time we saw each other with the France team he would say sorry, and then it would be forgotten, but he didn't and that disappointed me.'"
Football Italia's Paul Watson begins to question Fiorentina's ability to compete at the highest levels. "But it's hard to see how the Tuscans can satisfy the increasing appetite for success and do better than they did last year. Admittedly the Gigliati did excellent work in the summer market, but the playing field has changed. Serie A is a much more hostile environment this year. In addition to Inter, Roma and Juventus, Milan are rejuvenated, Lazio are playing like a side possessed and a number of other teams will have Champions League aspirations. Prandelli's men will do well to match last season's fourth place and are quickly learning that the Champions League is a different world from the UEFA Cup."
In an excellent article, James Montague (Guardian) looks into the latest problems facing the Iraqi football team, before reaching a relatively happy conclusion. "Again Iraqi national football team is rudderless and in crisis. But there are some positives to be taken from this self-destructive madness. The problems facing Iraqi football today seem to be increasingly less defined by the fallout from war, segueing instead with the relatively petty concerns that occupy the rest of Asian football: prima donna players, overpaid managers bailing at the last minute, poor results and a feeling of institutional unfairness. Chaotic and teetering on the brink of farce and footballing tragedy it may be, but Iraqis would choose flawed normality over a Pyrrhic victory any day of the week."
---