OFFICIAL: Randy Lerner puts Aston Villa up for sale [Tweets]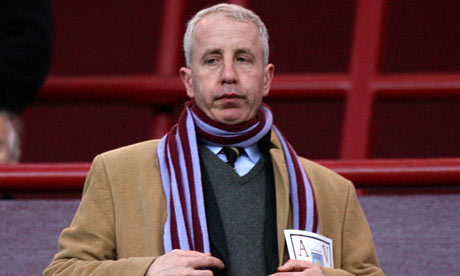 News has broken on Monday morning that Aston Villa is up for sale.
American owner Randy Lerner bought Villa in 2006 for £62.6m. One can assume the businessman will want a return on that investment.
Randy Lerner has released a statement, and the highlights are as follows:
I have come to know well that fates are fickle in the business of English football. And I feel that I have pushed mine well past the limit. The last several seasons have been week in, week out battles and having now come through this last season unfortunately limping amidst very meaningful injuries and constant sale rumours, I feel further that now is the time for me to look for new ownership and thus new leadership.
I have asked the world of Paul Lambert and Paul Faulkner and they have both delivered selflessly. On a personal level it is time for me, like the Shunammite, to dwell among my own and get on with other aspects of my career, following a sale.
I am appreciative of the support I have received, even in these last years of comparative struggle when criticism was due, and will look on with others – with fingers crossed, for stronger future performance appropriate to our size and heritage.
In light of the above, I have engaged Bank of America Merrill Lynch to advise on the sale of Aston Villa.
Aston Villa finished the 2013-14 season in 15th position, five points above the relegation zone.
BREAKING: Randy Lerner announces Aston Villa is up for sale. I would like to start the bidding at 10p and a half packet of Monster Munch.

— Paddy Power (@paddypower) May 12, 2014
Celebrity consortium of Prince William, @tomhanks and @david_reed to buy #AVFC. #itk

— Jon Holmes (@jonboy79) May 12, 2014
#avfc put up for sale by owner Randy Lerner. Manager Paul Lambert will be cursing spending £3 on a bow tie for end of season awards dinner..

— James Masters (@Masters_JamesD) May 12, 2014
Randy Lerner has put around £200m in since buying Aston Villa in 2006. Went to £1bn Man City last week, lost 4-0. Now puts club up for sale.

— David Conn (@david_conn) May 12, 2014
FOR SALE: Football club. Comes complete with under performing team and disaffected fan base. For details, see Mr R Lerner

— Mirror Football (@MirrorFootball) May 12, 2014
No word yet on what Lerner is going to do with the Villa crest he had tattooed on his ankle.

— Owen Gibson (@owen_g) May 12, 2014
---
GAMBLING CAN BE ADDICTIVE, PLEASE PLAY RESPONSIBLY