NSFW!!! This is how an Irish Man United supporting father reacted to the 2-2 draw with Fulham!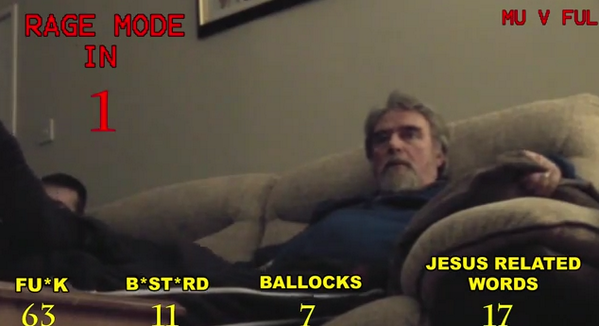 Kudos to the lads at Joe.ie for an absolutely brilliant find.
During a regular season, Manchester United's 2-2 draw with Fulham was a crazy game.
The Cottagers had two shots on goal and Manchester United took so long to find a way through their massed defence despite a slew of well documented crosses.
Utilising a secret camera, the Irish daughter from Clondalkin filmed her father watching the Premier League match on Sunday and counted the amount of times he said "fu*k", "B*st*rd", "Ballocks" and "Jesus related words."
The video is simply tagged on YouTube with the following line: "LOL, set up a camera to record the oulfellas reaction to the United match! he had no clue haha".
What ensues is an absolute swear fest of epic proportions with the man's mood not truthfully improving a great deal, even when Manchester United were 2-1 up.
Then its full on "rage mode" as Darren Bent bags a late equaliser!
---
GAMBLING CAN BE ADDICTIVE, PLEASE PLAY RESPONSIBLY