#NoAllegri trends on Twitter worldwide as Juventus fans rally against new coach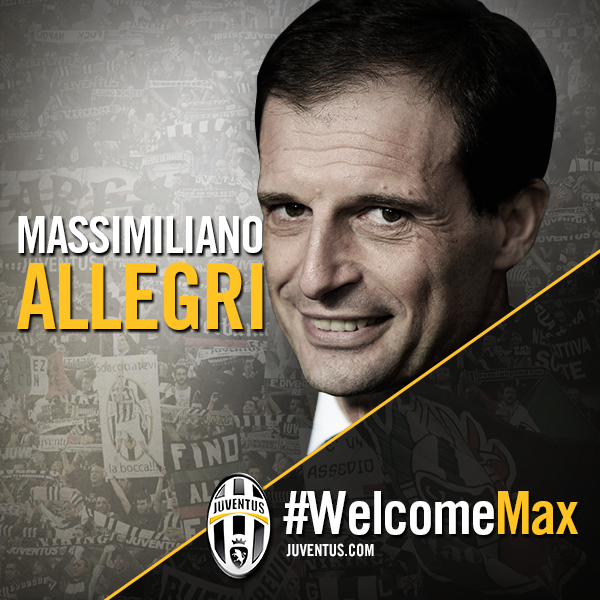 Juventus fans can be forgiven for being a little distraught today.
Antonio Conte's resignation on Tuesday will have come as a body blow – after all the former Old Lady coach had won three Serie A titles in a row.
Conte undoubtedly had the trust of the Juventus players and by winning plenty of titles had secured the Turin giants as the number one side in Italy.
Meanwhile, Massimiliano Allegri is not so well loved in Italy.
Specifically, after an underwhelming spell as AC Milan coach that consistently saw poor starts culminating in the sack last year.
Allegri has picked up somewhat of a reputation as a bumbling fool and it also places a huge cloud over the future of Andrea Pirlo who was sold by the same coach at AC Milan.
Cue the #NoAllegri hashtag on Twitter as Juventus fans rally against their new coach, see the best Tweets below.
My reaction when Juventus announced Conte has resigned as a Juve coach #NoAllegri #NOAllegriallaJuve pic.twitter.com/YWzr8QVaOs

— ΔβDULLΔH ΣSHΔRIҒ (@HerrEsharif) July 16, 2014
#NOALLEGRI! RT @FIFAcom : @juventusfc have appointed former @acmilan coach M Allegri to replace Antonio Conte pic.twitter.com/HOi87JXVJg

— R. Bayu P Murdjito (@bayoumurdjito) July 16, 2014
If u @juventusfc difficult to make a decision, just look at them.. #NoAllegri pic.twitter.com/BuYC4s0UDA

— Fernando Djuuna (@fernando311) July 16, 2014
#NoAllegri #pirlo4ever pic.twitter.com/utYOmK4Pco

— alessia tummino (@leli85) July 16, 2014
juve defeated Allegri not so long ago.if I was a juve player I wouldn't trust his method one bit. this can only end in a disaster #noallegri

— ilari c (@c_ilari) July 16, 2014
#NoAllegri Look what he did to Milan. He is the reason we have Pirlo. What's the point of talking about future if you want to sell everyone!

— Adriano Cacchione (@a7adj) July 16, 2014
What a summer, no Sanchez, No Conte, No Iturbe and it's only July… But hey, we got Allegri! #Sad #NoAllegri

— Petrit (@PetritMusliu) July 16, 2014
@juventusfcen yeah great job! Replace the record breaking coach with a proved failure! #NoAllegri

— Said Hassan (@SaidHassan) July 16, 2014
#NoAllegri is now trending topic world wide. pic.twitter.com/zRtsl7GUov

— AC Forza Milan/News (@ACForzaMilano) July 16, 2014
---
GAMBLING CAN BE ADDICTIVE, PLEASE PLAY RESPONSIBLY