No one can believe Lionel Messi won the World Cup Golden Ball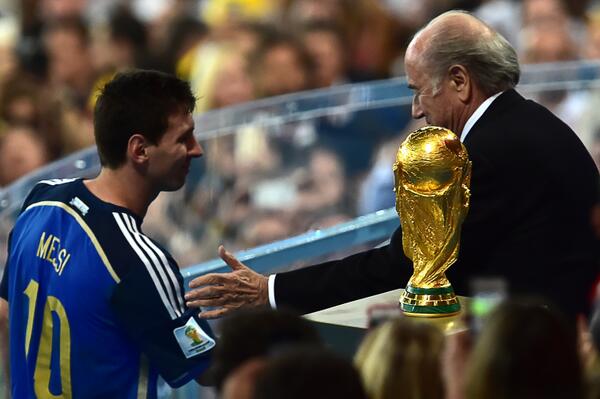 Lionel Messi had to trudge up the steps and receive the Golden Ball as the World Cup's best player in the aftermath of Argentina's defeat to Germany in the Rio final.
It didn't look like Messi enjoyed receiving the award and it is difficult to argue that he was the best player at the 2014 World Cup.
Messi scored all four of his goals in the group stages.
Argentina did not score in their final 240 minutes of football at the World Cup.
James Rodriguez, Arjen Robben, Bastian Schweinsteiger and a host of others could claim to have had a better World Cup than Lionel Messi.
Heck, Messi wasn't even Argentina's best player – with Javier Mascherano immense throughout!
Best of the Twitter reaction to Lionel Messi winning the Golden Ball below.
Golden Ball, Leo Messi. #allin pic.twitter.com/1eOiz38bBf

— adidasfootball (@adidasfootball) July 13, 2014
Funny that the golden ball and glove winners both have Adidas, World Cup sponsors, deals personally and with club and country #politics

— Thomas Cummings (@tj_cummings) July 13, 2014
Mascherano deserves the Player of the Tournament more than Messi does…For me: Robben, Schweinsteiger or Muller.

— Roberto Kusabbi (@RKTweets) July 13, 2014
Ridiculous decision to give the Player of the tournament to Messi. I would have given it to Neuer

— Guillem Balague (@GuillemBalague) July 13, 2014
Lest we forget it's called the Adidas Golden Boot. Pretty convinced they had a hand in it going to their star man.

— Alex Shaw (@AlexShawESPN) July 13, 2014
Even the most rose-tinted glasses wearing Messi-ite Argentinian wouldn't claim he was MVP. Because he wasn't, by any objective analysis.

— Paul Morrissey (@Paul_Morrissey) July 13, 2014
No disrespect but #Messi winning d Golden Ball is a disgrace A pathetic cop out by d schmucks in charge Plenty of other deserving candidates

— alexis 'jasoos' (@atulkasbekar) July 13, 2014
Id give the golden ball to Ron Vlaar before id give it to Messi

— Curtis (@CurtiZSe7eN) July 13, 2014
The World Cup Golden Ball is the silliest consolation prize ever. Messi looked like he wanted to toss it in the trash.

— FCB News&Negativity (@cynicule) July 13, 2014
The least happy a person has ever been to win a trophy. #Messi #ARG #GERvsARG #GoldenBall pic.twitter.com/QavAXadWk3

— KICKTV (@KICKTV) July 13, 2014
---