No Luis Suarez in new Liverpool Garuda Indonesia advert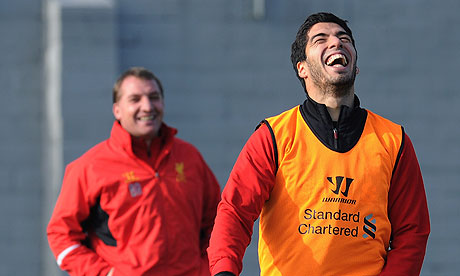 "He is a wonderful player. And he is still very much a Liverpool player. No matter who the player is, nobody is bigger than Liverpool Football Club. Luis is a very important member of this squad and I am looking forward to working with him again this season. There has been lots of speculation about Luis moving to another club but, as I said, he is very much a Liverpool player. We had an offer that was nowhere near what we value him at. Of course he wants to work and play at the top level. But unless something drastic happens, he will be staying here. He has got three years left on his contract." – Liverpool boss Brendan Rodgers on Luis Suarez.
It is difficult to know what to believe during silly season but the quotes above from Rodgers on Suarez are countered today by the fact that the Uruguayan striker doesn't feature in a new Liverpool advert.
As the official Global Airline Partner of Liverpool FC, Garuda Indonesia released the video below yesterday to celebrate the fact they flew the Premier League side to their summer tour.
Is it significant that Suarez doesn't appear?
Well, they could have included the Uruguayan striker on the screen the boy watches at the beginning of the clip.
Although Pepe Reina has been linked with a move away all summer and he does feature in the advert.
This of course comes in a week where Luis Suarez has shed a lot of assumptions with his comical advert for Abitab.
---
GAMBLING CAN BE ADDICTIVE, PLEASE PLAY RESPONSIBLY