Nicklas Bendtner produced the most ridiculous offside call at end of Arsenal win at Dortmund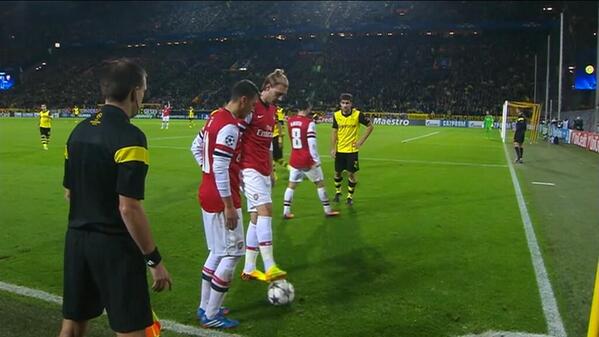 In all the euphoria of Arsenal's 1-0 win at Borussia Dortmund on Wednesday evening, a bizarre incident at the end of second half injury time has been all but forgotten.
In the 93rd minute, with four minutes of injury time to play, Mesut Ozil won Arsenal a free-kick by the corner flag – in pretty much the perfect position for a side holding a 1-0 lead.
Cue Nicklas Bendtner who sidled up to Ozil, ten minutes after replacing Olivier Giroud up front for the Arsenal.
The Danish striker plays the ball forward – surely he should have knocked it back or sideways to Ozil – and the linesman, who could not have had a better view flagged for offside.
Many have and will argue that Ozil was behind the ball which lays the blame at the feet of the lino – but the big Danish striker should surely have not left anything to chance!
Had Dortmund gone up the other end and equalised, there would have been plenty of rage about this ridiculous piece of football.
Seconds later, Robert Lewandowski was claiming for a penalty!
The Russian commentator on the video enjoyed this!
A selection of Tweets slating Bendtner can also be seen below.
how did Bendtner manage an offside pass from that free kick?

— Mags (@deadbloke) November 6, 2013
Did Bendtner just make a 15 cm offside pass? That must be a record…#Arsenal

— Öliviniho (@Oliviniho) November 6, 2013
That offside free kick by Bendtner was priceless hahahah #Useless

— Freddie Fitton (@FredFitton) November 6, 2013
Fair play to Arsenal, superb result. Best bit was Bendtner forgetting the offside rule while trying to keep the ball in the corner. Plum

— James Dickens (@JamesN11) November 6, 2013
My heart was in my mouth when Bendtner played offside, that is just typical him. He could of lost us the match.

— Özil 11 (@ItsMirjan) November 6, 2013
"Free-kick for a foul on Ozil, Bendtner decides its time to make his mark…He rolls the ball to Ozil for… OFFSIDE!" #COYG #bloopers

— ʞɐzɐɹ ɯızɐ (@azimrazak) November 7, 2013
Did anybody notice that Bendtner passed to offside Ozil in the injury time (was meant to waste time for us, but helped BVB to save some.

— Andro Atoev (@MacAndrews) November 7, 2013
---
GAMBLING CAN BE ADDICTIVE, PLEASE PLAY RESPONSIBLY