Newcastle legend Alan Shearer refuses to wear a Sunderland shirt for Sport Relief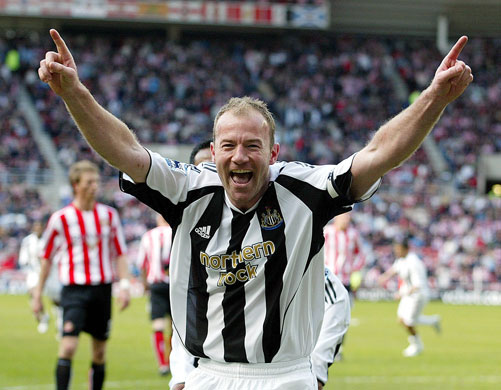 As is the case every year, the BBC are presently promoting their Sport Relief campaign in which British sportsmen take time out to help raise money for charities to help those in need.
One of the main drives this year is the "Shirts of Hurt" fundraiser, in which professional sportsmen are asked to wear their most hatred opposition's strip. This has seen the likes of ex-Arsenal defenders Martin Keown and Lee Dixon donning Manchester United and Tottenham shirts respectively (see here).
Sadly though, some ex-footballers have proven too stubborn in their beliefs to go along with the fun and games.
A few days ago during the BBC's recording of the Fighting Talk podcast show, ex-Gunner Perry Groves refused blankly to wear a Spurs shirt (see here) and yesterday on the BBC another refusal was forthcoming as Alan Shearer backed out of wearing a Sunderland strip.
Shearer weaseled out of the campaign by arguing "I would rather give you a lot of money than put that on. My life wont be worth living if I return to Newcastle after that."
Alan Shearer's point-blank refusal can be seen here.
Best football betting tips & free bet offers
Click here for more Premier League betting tips
---