New Song: Shake His Hand (from Sepp Blatter, The Musical)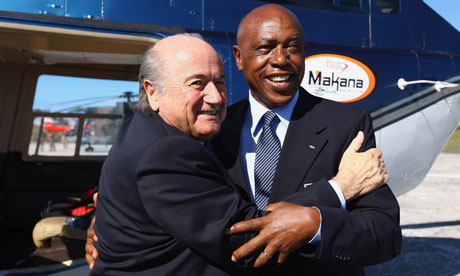 It was only a matter of time.
Following Sepp Blatter's comments on Wednesday, primarily that anyone racially abused on the football pitch should "say 'this is a game' and shake hands," a new song has been released making fun of the 75-year-old FIFA president.
Congratulations to James Gasson (jdsfootballsongs's on YouTube) for an excellent spoof, basically urging all problems to simply be solved by shaking hands.
Among the best lyrics are: "Shake his hand,  Someone shagged my wife, Shake his hand, Someone ruined my life, Shake his hand."
Sepp Blatter's Shake His Hand spoof song can be heard here.
***
Also on the furore surrounding Sepp Blatter, here are the latest videos:
Sepp Blatter's apology – I will not resign (BBC).
Blatter clarifies racism stance (Fox Soccer).
David Beckham denounces Sepp Blatter racism remarks.
Sol Campbell: Blatter comments make me sick.
---
GAMBLING CAN BE ADDICTIVE, PLEASE PLAY RESPONSIBLY