Nemanja Vidic is furious with Man United for not offering him a new deal, Serb heading to Serie A [Sun]
On Wednesday afternoon Sky Italia's inside-man Gianluca Di Marzio announced that Inter Milan were closing in on Manchester United defender Nemanja Vidic. 12 hours later, the Sun have backed up those claims with their backpage on Thursday.
Under the headline "Vidic Fury Over Contract Snub", a new problem is flagged up at Old Trafford as United's stalwart Serb centre-half is rumoured to be super pissed.
Neil Custis, under the questionable "exclusive" banner, scribbled:
Nemanja Vidic has been left fuming over his Manchester United contract snub. The club captain's current deal is up at the end of the season and there has been no approach from United about an extesnion.
Vidic, 32, is angry at being left in limbo. The Serbian centre-back expected better treatment as one of the senior members of the squad but it appears United are ready to let him go. The Serb is now free to talk to other clubs with Inter, Juventus and AC all interested in him on a free transfer.
Of course, the Sun's backpage runs contrary to conflicting reports that it is Vidic, in fact, who wants to walk out on Old Trafford.
Back at the start of January Italian radio station Radio Crc have scooped an interview with Nemanja Vidic's agent, Silvano Martina, and the football deal maker has revealed that the Serb's future looks to be away from Manchester United.
Martina told the Italians: "Vidic is a very good player and will have no trouble finding a new club. For the time being we are remaining calm. However, at the moment, I would rule out an extension with Manchester United."
Either way, it now seems certain that Vidic's days at Man United are numbered.
The backpage of the Sun on Thursday is below.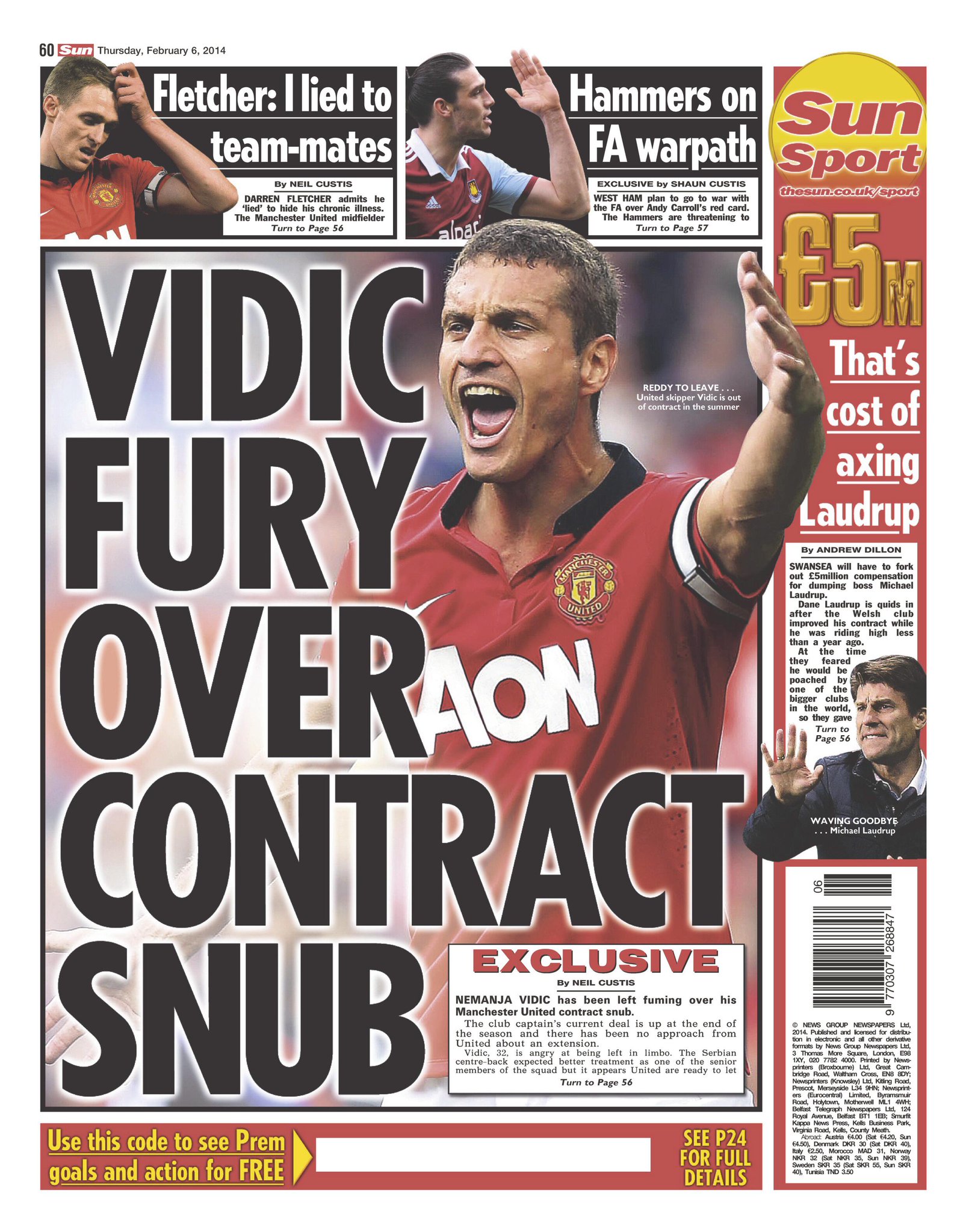 ---
GAMBLING CAN BE ADDICTIVE, PLEASE PLAY RESPONSIBLY